Your Reviews About the World
MyWorldReviews.com
Let the world know what you think
Lakruwana
New York, New York, United States
668 Bay St
New York, New York, United States
10304
347 857 6619
www.lakruwana.com
View Map
Overall Experience:
7 / 10
Date Visited:
Friday, March 11, 2011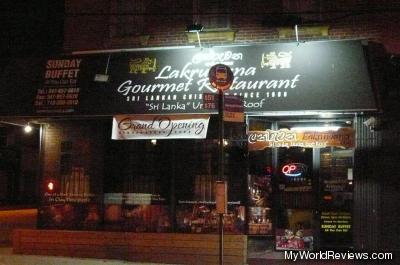 Lakruwana
Lakruwana is a Sri Lankan restaurant on Staten Island. The restaurant is filled with traditional Sri Lankan decor, and a movie played in the background with images and video from Sri Lanka. The food was packed full of spice. We ordered the food medium-spicy, but I found it had quite a bit of flavor. The food was served in separate dishes with serving spoons, so it was easy to share.
Dress
Casual
Cost
Most entrees were $11.95 or $12.95
Service
The restaurant appears to be a small family business. The host was quite accommodating in serving our large group.
Reservations
The restaurant wasn't very busy when we visited on a Friday evening. It was not a problem to get a table for 10.
Items Ordered
Faluda
Faluda
The faluda drink looked beautiful, but was quite a heavy drink. It was a rose flavored smoothie with a scoop of ice cream and little gummy balls (kind of like tapioca ball). It tasted very much like Turkish Delight in drink form.
Assorted Sri Lankan Appetizers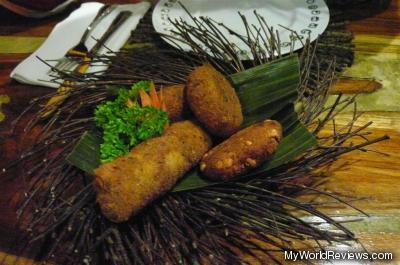 Assorted Sri Lankan Appetizers
Combination of spring rolls, Wade, fish & vegetable cutlets
The appetizers all tasted pretty similar. They had the same fried breading exterior with different fillings, although the fillings also tasted pretty similar.
Lamprais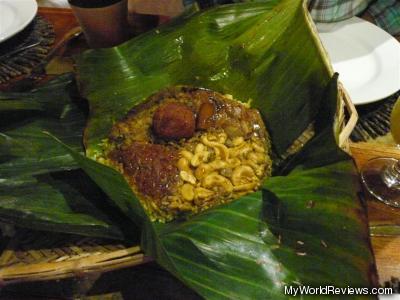 Lamprais
Basmathi rice, Lamprais curried meats (Chicken, Goat, Beef or Fish), vegetables and spices steamed in a banana leaf
This was one of my favorite items. The banana leaf flavor infused everything inside it. It was served beautifully, and then it was our task to mix everything together.
The curries went really well with the rice and vegetables. The curries were nice and flavorful on their own, but just made a delicious dish when paired with the rice and veggies.
Chicken Biriyani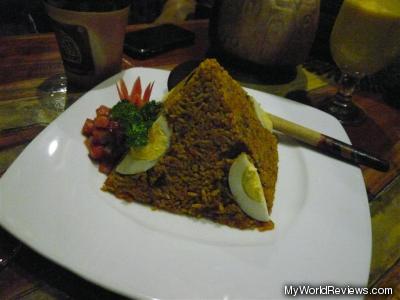 Chicken Biriyani
Saffron flavored Basmathi rice cooked with chicken in delicate blend of exotic spices and herbs, sprinkled with raisins and nuts.
Another beautifully presented dish - a pyramid of rice and spices. I found this to be quite similar to other Biriyani dishes I've had at Indian restaurants. It was good, but not one of the best dishes here. The best reason to order the Biriyani is to see its cool pyramid shape.
Hoppers with Curry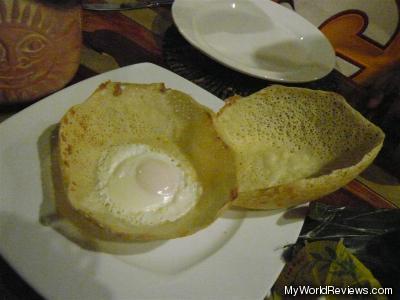 Hoppers
Hopper (prepared from rice flour and coconut milk) four numbers of plain hoppers & egg hopper served with your choice of curry (goat curry, chicken curry, prawn curry, King fish curry, fish curry, squid curry, vegetable curry, beef curry)
Only the hoppers are pictured here - the curry is not included in the picture since it's served in a separate dish.
The curries had quite a unique spicy flavor. The goat curry with the hoppers was one of my favorite dishes. The hopper soaked up the curry sauce and made a nice simple vehicle for the strong tasting curry.
Watalappan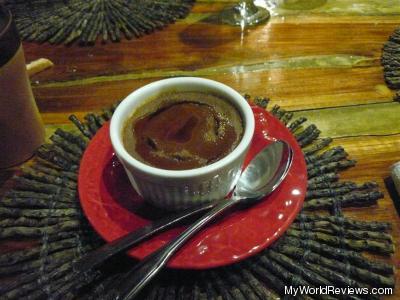 Watalappan
Coconut milk pudding made out of Sri Lankan palm sugar.
This was described as a very traditional Sri Lankan dessert. It had a mixed response - most people did not like it at all. It didn't taste very much like coconut, but had a very dark caramel taste that was only somewhat sweet. It wasn't a typical north american dessert.
review contents
Dress
Cost
Service
Reservations
Items Ordered
Faluda
Assorted Sri Lankan Appetizers
Lamprais
Chicken Biriyani
Hoppers with Curry
Watalappan
related reviews
More reviews in New York, NY
Been here? Want to write your own review of this restaurant?