Your Reviews About the World
MyWorldReviews.com
Let the world know what you think
La Vineria
New York, New York, United States
737 9Th Ave
New York, New York, United States
10019
212-247-3400
www.lavineriarestaurant.com
View Map
Overall Experience:
6 / 10
Date Visited:
Saturday, April 25, 2009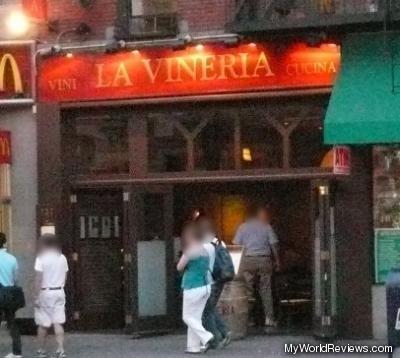 La Vineria in Hell's Kitchen
La Vineria is an Italian restaurant in Hell's Kitchen, not far from Time's Square and most Broadway theaters. For nice weather, they open up their floor to ceiling windows to give the feeling of sitting outdoors. It's a busy street though, so it's not very peaceful sitting by the windows.
The restaurant is quite long and narrow, so if you're sitting near the back, it's quite dark.
Dress
Casual - shorts and a t-shirt are fine.
Cost
Average - most entrees are about $15 - $25.
Service
The service was adequate.
Reservations
We walked in on a Saturday evening and managed to get a seat by the window. I think most people come here from just walking by.
Items Ordered
Bread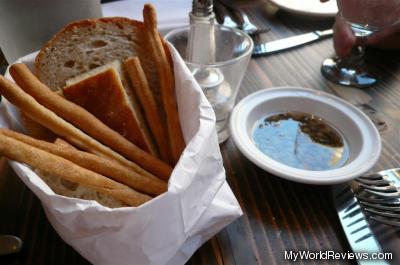 Bread basket
We were brought an assortment of breads and olive oil with lentils in it for dipping. I've never had lentils in dipping oil before, but I liked it.
Burrata a Prosciutto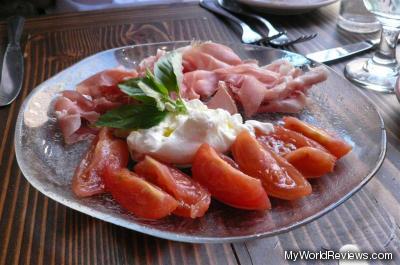 Burrata a Prosciutto
Italian buffalo burrata plum tomatoes, prosciutto di parma and basil
This appetizer was very good. The cheese was soft and light tasting and went really well with the tomatoes and prosciutto. I usually find prosciutto to be too salty, but this one wasn't. This appetizer is big enough to share.
Misticanza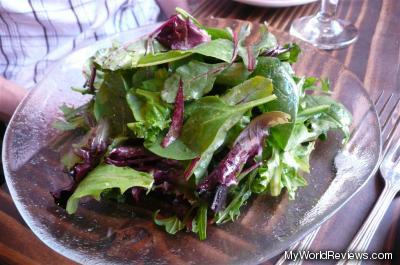 Misticanza
Fall field greens with fresh herbs in lemon dressing
This salad was a pretty typical green salad. The dressing was pretty good, and there was just the right amount of it on the salad.
Passatelli alla crema di zucca e pecorino
Passatelli alla crema di zucca e pecorino
Homemade passatelli served over a butternut squash cream topped with shaved pecorino cheese
I didn't know what passatelli was, and now that I do, I probably wouldn't order it again. It was a deep fried pasta. I might have liked a bit of it, but a whole dish of it was too much. Overall, this pasta dish was pretty plain. The butternut squash sauce was nice, but didn't have a very strong flavor. I found I got bored with the dish before I finished eating it.
Lasagna Emiliana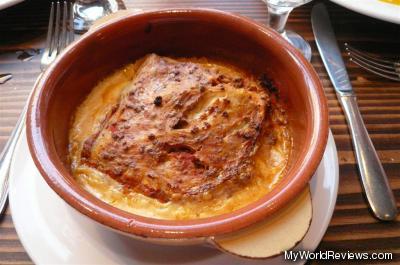 Lasagna Emiliana
Traditional lasagna from bologna made with a delicate bechamel & bolognese sauce
The lasagna was quite salty. Otherwise, it was pretty good. It was served very hot in its baking dish.
review contents
Dress
Cost
Service
Reservations
Items Ordered
Bread
Burrata a Prosciutto
Misticanza
Passatelli alla crema di zucca e pecorino
Lasagna Emiliana
related reviews
More reviews in New York, NY
Been here? Want to write your own review of this restaurant?