Your Reviews About the World
MyWorldReviews.com
Let the world know what you think
La Palatte
New York, New York, United States
94 Greenwich Avenue
New York, New York, United States
10011
212-366-6110
www.cafelapalette.com
View Map
Overall Experience:
5 / 10
Date Visited:
Saturday, January 3, 2009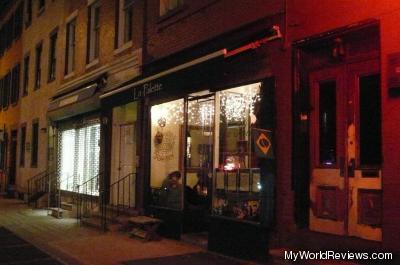 La Palette in the West Village
La Palette is a small Brazilian restaurant in the West Village in Manhattan. The restaurant appeared to be run by a family, and it seemed that most people who came in were family or friends. A little girl about two years old was running around the restaurant the whole evening. Everyone there seemed to know her and was holding her on their laps at various times. It was a little bit strange.
The food was alright, but seemed slightly over priced. There were a few interesting items, like cassava root.
Dress
Very casual - shorts and t-shirt are fine.
Cost
I thought the food was overpriced for what we got. Entrees cost were around $15-$20. Appetizers were $5-$15.
Service
The service was pretty typical.
Reservations
The restaurant wasn't very busy when we arrived on a Saturday evening. There are probably less than 10 tables in the restaurant, but I don't think reservations are necessary.
Items Ordered
Mandioca Frita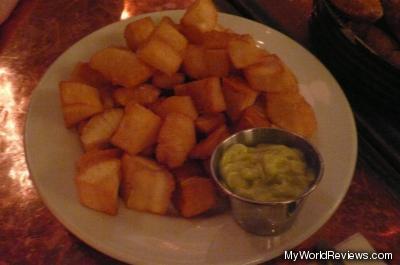 Fried Cassava Root
Fried cassava root
We had never tried cassava root before, and were interested to try it. It's very similar to potatoes, but denser and a bit sweeter. They were quite good, and I also liked the dipping sauce they came with.
Bife Acebolado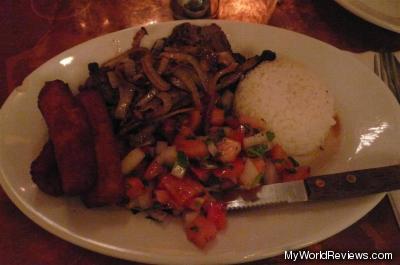 Bife Acebolado
Grilled top sirloin beef topped with caramelized onions and served with rice, beans, fried bananas and vinaigrette
This was a thinly cut piece of beef, but it had a nice flavor. It came with some tomatoes, rice, and beans (which are shown in the next picture). The fried bananas were delicious as always.
Beef Strogonoff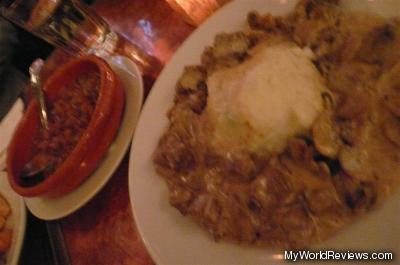 Beef Strogonoff
Top sirloin beef and mushrooms in a savory cream sauce with homemade mashed potatoes or Brazilian style rice
I ordered the Beef Strogonoff with the mashed potatoes. The mashed potatoes were nice and creamy. The cream sauce was very savory and delicious. There was a good amount of mushroom in this dish, but I found it became pretty boring quickly. It was too much of the same thing.
Brigadeiro Cake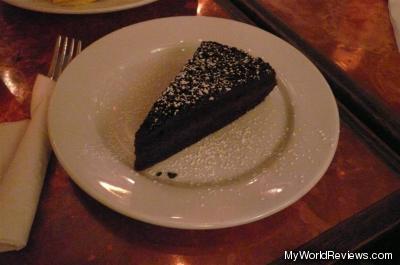 Brigadeiro Cake
Delicious Chocolate Cake
As the menu said, this was a delicious chocolate cake. It was very light, moist, and chocolatey. It was a good piece of cake. It was light and creamy enough to be a chocolate mousse cake.
review contents
Dress
Cost
Service
Reservations
Items Ordered
Mandioca Frita
Bife Acebolado
Beef Strogonoff
Brigadeiro Cake
related reviews
More reviews in New York, NY
Been here? Want to write your own review of this restaurant?