Your Reviews About the World
MyWorldReviews.com
Let the world know what you think
La Lanterna Caffe
New York, New York, United States
129 MacDougal St
New York, New York, United States
10012
212-529-5945
lalanternacaffe.com
View Map
Overall Experience:
6 / 10
Date Visited:
Friday, September 26, 2008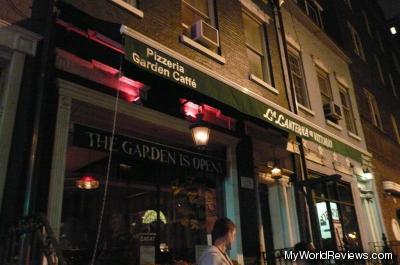 La Lanterna Cafe
La Lanterna Caffe is a restaurant and cafe located in the village area of New York City. They have a small outdoor garden, but when we visited (around 10pm on a Friday night), the only seating they had available was in the basement. The basement was a bit like a dungeon - it was very, very dark. The garden looked much nicer.
Some might think that the basement has a "cozy" atmosphere - each table has a small little tea lamp, and there are a couple lanterns on the walls. I found it very difficult to read the menu, and challenging to see what I was eating.
During this visit, we had already eaten, and were just looking for some dessert. The cafe is open very late on the weekends (4am).
Dress
Very casual
Cost
The prices for dessert items are pretty average for the area (slightly higher than what you might pay elsewhere). Fruit tarts are $5, pies are $5.50, and cheesecake slices are $6.
Service
I was pleased with the service here. I think there was only one waitress for the basement, but she kept all our water glasses full, and we weren't rushed out of the restaurant after we finished our desserts.
Items Ordered
Cappuccino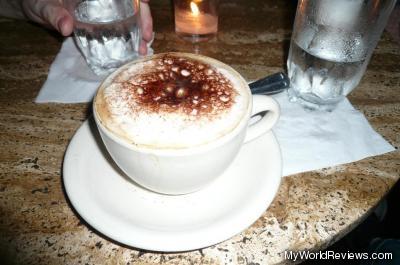 Cappuccino
Cost:
$3.99 (or $4.99 with whipped cream)
This was actually a disappointing cappuccino. It was a bit on the weak side, and didn't have the usual delicious coffee flavor.
Raspberry Crumb Cheesecake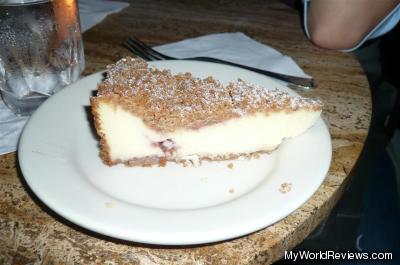 Raspberry Crumb Cheesecake
The cheesecake was pretty tasty, but was also a bit disappointing. It was sold as a "raspberry crumb cheesecake", but it didn't have a raspberry flavor. There were crumbs on top, but I think there may have only been one or two raspberry pieces in the whole cheesecake.
The cheesecake itself was a very good cheesecake. It was pretty creamy with a nice flavor, but it was definitely lacking raspberries.
review contents
Dress
Cost
Service
Items Ordered
Cappuccino
Raspberry Crumb Cheesecake
related reviews
More reviews in New York, NY
Been here? Want to write your own review of this restaurant?