Your Reviews About the World
MyWorldReviews.com
Let the world know what you think
La Fonda Del Sol
New York, New York, United States
200 Park Ave
New York, New York, United States
10166
212-867-6767
www.patinagroup.com/restaurant.php?restaurants_id=19
View Map
Overall Experience:
6 / 10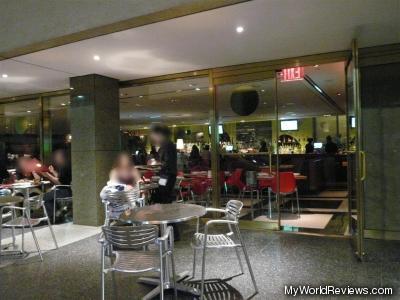 La Fonda Del Sol
La Fonda Del Sol is a modern Spanish-style restaurant offering two different dining experiences. The main floor is a bar and lounge with a tapas menu. Going up a short stairwell in the back leads you to a more formal dining room with a more extensive menu. The lounge had a few tables set up on the sidewalk outside for outdoor dining.
Dress
The tapas lounge area is quite casual. The dining room was more formal and would require business attire. Most men appeared to be wearing suits.
Cost
Most of the tapas dishes were around $10. We ordered 6 plates between 3 people. I think a hungrier group might want a few more plates than that.
Service
We had a really nice waitress - she was quite helpful explaining the menu and helping us decide what to order.
When ordering tapas style, you get many small plates. I thought they would bring them out in a few courses since we had ordered some dishes that were more like appetizers, and some that were more like entrees, but they brought out almost everything at once. I found this made it difficult to fit everything on the table, and also made me want to eat through the everything quickly before the hot dishes got cold.
Reservations
We made reservations in advance for the lounge, but it wasn't necessary - there were several tables open around 6pm.
Items Ordered
Pa Amb Tomà quet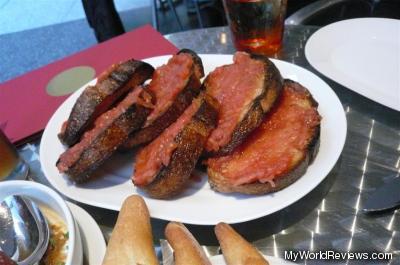 Pa Amb Tomaquet
toasted bread, tomato, fruity olive oil, sea salt
This was very similar to a bruschetta bread, with a very fresh tasting tomato topping. There were two pieces per person, which I thought was a bit too much if you're getting it just as an appetizer.
Artisan Cheeses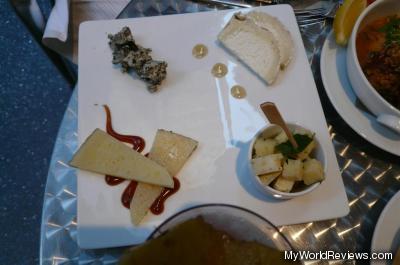 Artisan Cheeses
Idiazabal, Valdeon Blue, Caña de Cabra, Manchego
These was a pretty good cheese platter, except for the blue cheese which nobody in our group was fond of. The other cheeses were all unique and delicious. There were a few drops of sauce that coupled really well with the cheese too.
Salchichón de Vic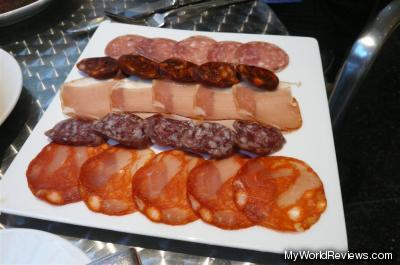 Salchichón de Vic
cured pork loin, chorizo, fuet Catalán
This plate of room temperature sausage slices went well with our cheese, bruschetta bread, and the mini baguettes that were brought to our table for free. There was a nice variety to try. A few of them were spicy and some were more mild tasting.
Garlic Shrimp "Cazuelita"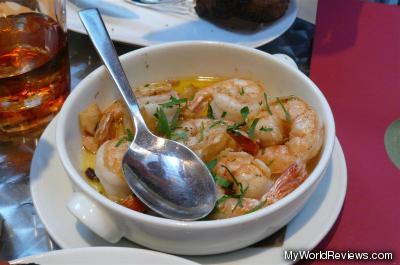 Garlic Shrimp
olive oil, Chile pods, garlic chips
The shrimp were pretty good. They were served in a nice sauce.
Pulled Pork Sliders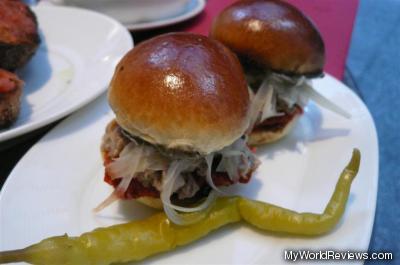 Pulled Pork Sliders
smoked date, pickled fennel
These mini sandwiches tasted delicious, but the sauce on them looked really unappetizing. We were a little uneasy about trying them, but once we tasted it, the sauce was surprisingly good.
Piquillo Peppers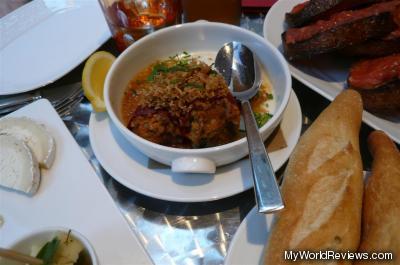 Piquillo Peppers
stuffed with Spanish rice, rabbit
The stuffed peppers were delicious. This was probably the best dish we ordered. The meat was very tender. I was disappointed the dish was so small. I think next time, I would order one of these dishes per person.
Wicked Chocolate Cake and Assorted Cookies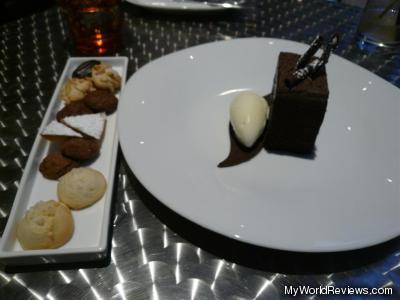 Wicked Chocolate Cake and Assorted Cookies
Manjari Chocolate, Guajillo Chile, Cinnamon, Milk Ice Cream
The chocolate cake was amazing. It was very unique. It was a moist chocolate cake that left a spicy after taste. It was a surprisingly pleasant combination.
The cookies were also pretty good, but not as good as the cake. They reminded me of the tapas, since there were many different small cookies.
review contents
Dress
Cost
Service
Reservations
Items Ordered
Pa Amb Tomà quet
Artisan Cheeses
Salchichón de Vic
Garlic Shrimp "Cazuelita"
Pulled Pork Sliders
Piquillo Peppers
Wicked Chocolate Cake and Assorted Cookies
related reviews
More reviews in New York, NY
Been here? Want to write your own review of this restaurant?