Your Reviews About the World
MyWorldReviews.com
Let the world know what you think
Kafe Mimar Sinan
Istanbul, Istanbul, Turkey
Overall Experience:
7 / 10
Date Visited:
Tuesday, March 4, 2008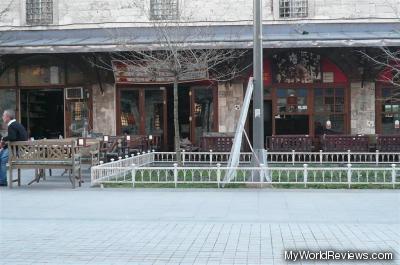 Kafe Mimar Sinan is a small restaurant located just south of the "Suleymaniye Cami" mosque. We tried to go in the mosque, but I think it was closed for renovations. So instead, we decided to have dinner at this restaurant located nearby. There are many other restaurants located on the same street (just behind the mosque), but this restaurant was one of the few that displayed English on their menu.
The restaurant has an outdoor seating area, and I think there were a couple of tables inside too.
Cost
The cost was cheaper than other restaurants that we've eaten at in Istanbul. I felt that we received very good value eating here.
Items Ordered
Freshly Squeezed Orange Juice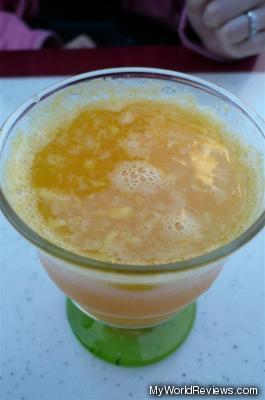 Freshly Squeezed Orange Juice
The orange juice was definitely freshly squeezed - we saw our waiter squeeze it himself! The glass was pretty small, but freshly squeezed orange juice is great.
Bread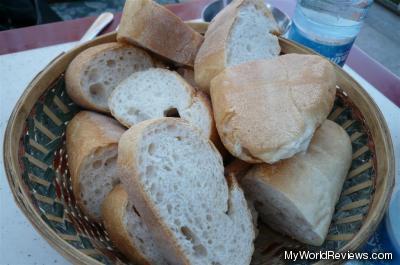 Bread
As with most of the bread we received in Turkey, this bread felt stale - it had probably been sitting out for too long. It was just a tough, plain white bread.
Kuru Fasulye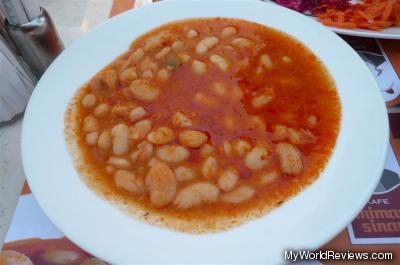 Kuru Fasulye
This dish consisted of beans in a tomato sauce. We didn't think it was as good as it looked. The portions were fairly small though, so this helped fill us up.
Chicken Kebap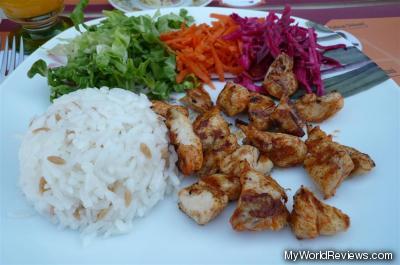 Chicken Kebap
The chicken kebap was quite good. The chicken was nicely flavored. It was served with some grated vegetables (lettuce, carrots, and red cabbage), and a small pile of white rice. The serving size was a little on the small side for just one person, but it was so affordable, it's hard to complain.
Lamb Kebap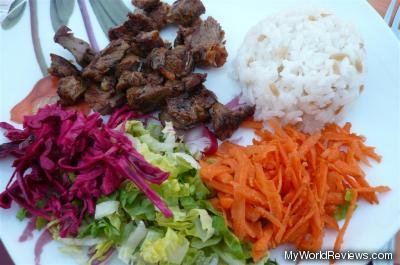 Lamb Kebap
The Lamb Kebap wasn't quite as good as the chicken. The side dishes were the same, but the lamb wasn't the best quality of meat. Some pieces were very fatty and difficult to eat.
Turkish Coffee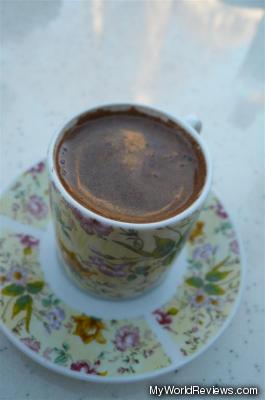 Turkish Coffee
This was my first time trying Turkish Coffee, and I discovered I don't like it! It was very sweet (with almost no coffee flavor), and very gritty. ...it was pretty much the opposite of everything a good coffee should be.
Service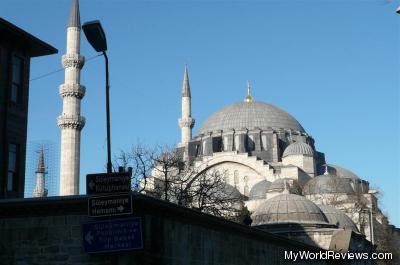 The nearby Suleymaniye Cami Mosque
The wait staff spoke very limited English. Fortunately, the menu had both Turkish and English for the same item, so we were able to get by by pointing.
Dress
Dress is very casual.
review contents
Cost
Items Ordered
Freshly Squeezed Orange Juice
Bread
Kuru Fasulye
Chicken Kebap
Lamb Kebap
Turkish Coffee
Service
Dress
related reviews
More reviews in Istanbul, Istanbul
Been here? Want to write your own review of this restaurant?