Your Reviews About the World
MyWorldReviews.com
Let the world know what you think
Jackson Diner
New York, New York, United States
72 University Place
New York, New York, United States
10003
212-466-0820
jacksondinernyc.com
View Map
Overall Experience:
7 / 10
Date Visited:
Friday, August 3, 2012
Jackson Diner near Union Square
Jackson Diner was a typical Indian restaurant serving many traditional foods. They had a few options I have not seen before, but everything we tried was very good. We asked for them to make the food spicy, and I thought they made it sufficiently spicy. I have often been disappointed by restaurants that give me medium spice when I ask for spicy.
Dress
Casual
Cost
Most entrees were around $10
Reservations
The restaurant wasn't too busy on a Friday evening.
Items Ordered
Sag Aloo, Baingan Bhurta, and Dal Makhani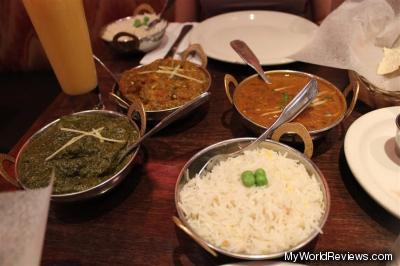 Left to right: Sag Aloo, Baingan Bhurta, Dal Makhani
Sag Aloo: flavorful blend of spinach and potatoes
Baingan Bhurta: broiled eggplants cooked with onions, tomatoes and ginger
Dal Makhani: black lentils flavored with tomatoes and ginger
As is often the case at Indian restaurants, the food was served family style. We shared three vegetarian entrees between two people and had enough to take home leftovers. We each got an included pot of rice.
The Sag Aloo was very much like Sag Paneer, but instead of cheese it had potatoes. I liked the potato and spinach combination much better. The broiled eggplant was mashed down into a sauce. It wasn't one of the best baingan bhurta's I've had, but it was not bad. The dal was delicious. It tasted a bit creamy and I really liked the variety of the black lentils.
review contents
Dress
Cost
Reservations
Items Ordered
Sag Aloo, Baingan Bhurta, and Dal Makhani
related reviews
More reviews in New York, NY
Been here? Want to write your own review of this restaurant?