Your Reviews About the World
MyWorldReviews.com
Let the world know what you think
Indian Taj
New York, New York, United States
181 Bleecker St.
New York, New York, United States
10012
212-982-0810
www.indiantajny.com
View Map
Overall Experience:
6 / 10
Date Visited:
Wednesday, December 17, 2008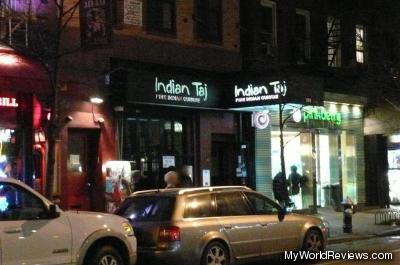 Indian Taj in Greenwich Village
Indian Taj is an Indian restaurant located in Greenwich Village in Manhattan. They offer good quality Indian food at reasonable prices. The restaurant wasn't decorated in any special way, but we got a really neat table in a niche in the wall. It provided extra privacy and was good for conversation.
Dress
Casual - shorts and t-shirt are fine
Cost
Prices are very reasonable. Most entrees are around $10-$14, with appetizers costing around $5.
Service
The waiters were very attentive, filling our water glasses quite frequently as needed.
Reservations
I don't know if they take reservations, but when we arrived on a weekday evening it was mostly empty.
Items Ordered
Free Papadum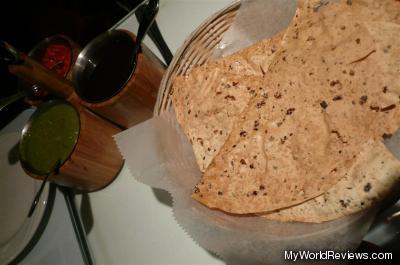 Free Papadum
Papadum, an Indian cracker, was brought to our table along with some different sauces. Some of the sauces were sweet, and others were spicy.
Vegetable Samosa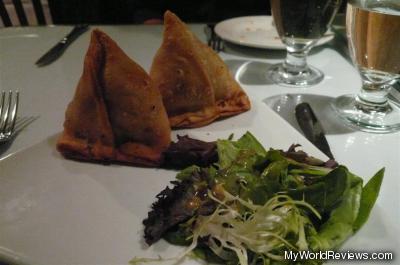 Vegetable Samosa
Triangle shaped pastry stuffed with seasoned potatoes and green peas
This appetizer arrived with two vegetable samosas and a small salad with a nice sweet dressing. The samosas were pretty disappointing. The pastry dough was just right, but the filling was too bland. They weren't bad, but I've had much better.
Mango Chutney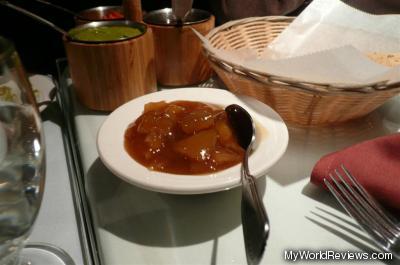 Mango Chutney
Spicy sweet and sour relish
The mango chutney wasn't really spicy, but it did have a strong mango taste. It was quite sweet. It went really well with the Samosas which didn't have much flavour on their own.
Gobi Munchurian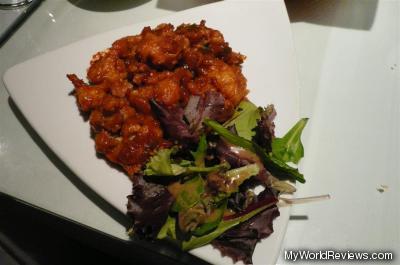 Gobi Munchurian
Soft flitters of caulifower marinated in special indo Chinese spices
This appetizer came with several pieces of battered and fried cauliflower, and a small salad (like the one that came with the samosas). The cauliflower were delicious! The sauce on them was very tasty.
Chicken Curry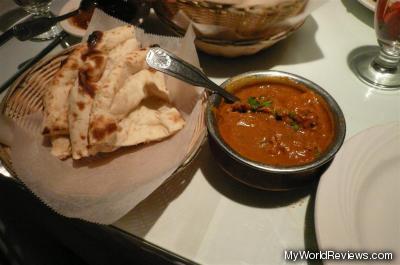 Chicken Curry
The chicken curry had very large pieces of chicken. It wasn't the best curry. It was disappointing. It wasn't very spicy, and there wasn't much too it besides the chicken in a broth.
It came with a serving of Basmati rice. In the picture is a separate order of Nan bread ($2.95).
Channa Masala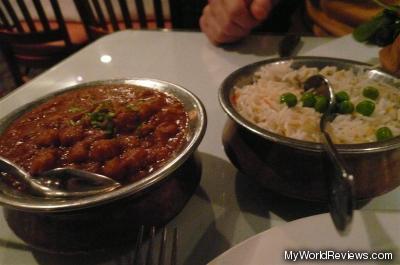 Channa Masala
Chick peas cooked in tangy sauce of spices
The Channa Masala was very good. The chick pea sauce was delicious, and just a little bit spicy. It was full of flavour. This dish also came with a serving of Basmati rice (shown in the picture).
review contents
Dress
Cost
Service
Reservations
Items Ordered
Free Papadum
Vegetable Samosa
Mango Chutney
Gobi Munchurian
Chicken Curry
Channa Masala
related reviews
More reviews in New York, NY
Been here? Want to write your own review of this restaurant?