Your Reviews About the World
MyWorldReviews.com
Let the world know what you think
Hundred Acres
New York, New York, United States
38 MacDougal Street
New York, New York, United States
10012
(212) 475-7500
hundredacresnyc.com
View Map
Overall Experience:
7 / 10
Date Visited:
Thursday, December 2, 2010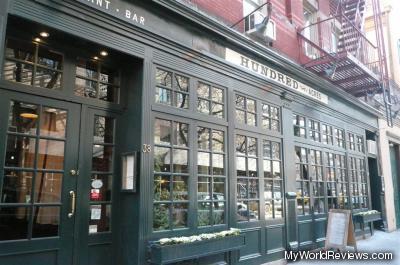 Hundred Acres Restaurant in SoHo
Hundred Acres is a slightly upscale restaurant in SoHo. They have a nice garden room in the back, and a wall of windows to the street in the front. The decor consists of dark wood and simple modern shapes, giving a warm but classy feel. Their menu is fairly small and changes daily, offering seasonal items. I find their appetizers are creative, while the entrees are more typical.
Dress
Casual - nice jeans and a shirt are fine for lunch.
Cost
Most entrees for lunch were $15-$20
Reservations
Reservations were not necessary for lunch around noon, although the restaurant got busier as lunch went on.
Items Ordered
Sweet Potato Soup
Sweet Potato Soup
boiled apple cider, creme fraiche
The soup was very smooth and sweet. It was mostly just pureed sweet potato with a hint of spice to it.
Housemade Macaroni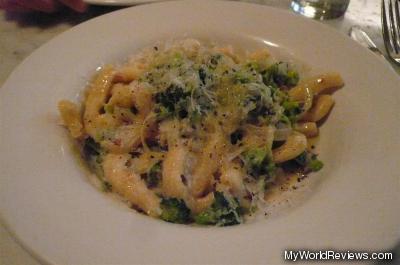 Housemade Macaroni
broccoli, shallots, rosemary, formaggio di fossa
The macaroni was quite different from the usual macaroni. The noodles were very thick. The combination with the vegetables was a nice addition to just a cheese sauce.
Almost World Famous Quiche
Almost World Famous Quiche
trumpet royal mushrooms, black kale, Caroline gold rice, bitter green salad
The quiche was really good - I'm sure it wasn't healthy but it tasted great. The center had a smooth texture and tasted very creamy. The bits of rice on the bottom were soft and added a nice taste. The bitter salad was very bitter, and had a very mild dressing.
review contents
Dress
Cost
Reservations
Items Ordered
Sweet Potato Soup
Housemade Macaroni
Almost World Famous Quiche
related reviews
More reviews in New York, NY
Been here? Want to write your own review of this restaurant?