Your Reviews About the World
MyWorldReviews.com
Let the world know what you think
Hundred Acres
New York, New York, United States
38 MacDougal Street
New York, New York, United States
10012
212-475-7500
hundredacresnyc.com
View Map
Overall Experience:
6 / 10
Date Visited:
Sunday, April 18, 2010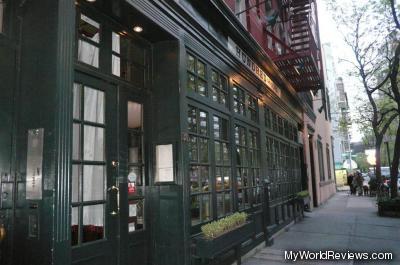 Hundred Acres Restaurant in SoHo
Seating:
Front Dining Room
Hundred Acres is a restaurant located in the west end of SoHo. The restaurant's theme is farm-fresh seasonal food. The restaurant has large windows that open onto MacDougal street (a relatively quiet street), and a backyard area. The restaurant has a romantic atmosphere for dinner.
I was a little disappointed with the dinner menu when we visited. I was hoping for some more healthy vegetable options, but it seemed everything was heavy on the meat/fish and potatoes.
Dress
Casual but nice - some people were a little dressed up.
Cost
Most entrees are around $25.
Reservations
They take advance reservations, although it didn't seem to be necessary for a Sunday evening.
Items Ordered
Artichoke Lasagnette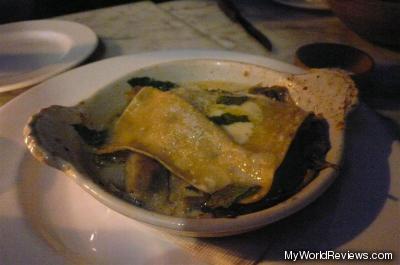 Artichoke Lasagnette
Dipalo's ricotta, pecorino cheese and mint
Some members in our group found this appetizer to be bland. I thought it was delicious with an excellent sauce and some really good cheeses. The mint added a nice accent.
All-Natural Niman Ranch Flap Steak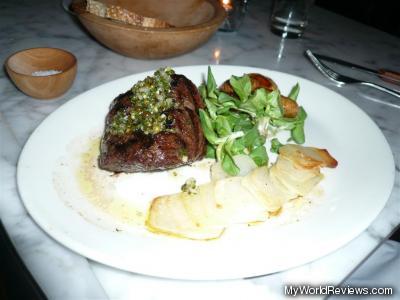 All-Natural Niman Ranch Flap Steak
scalloped potatoes, roasted red onions and green peppercorn vinaigrette
This was a large piece of steak. It was cooked as ordered. The peppercorn vinaigrette added a mild fresh taste. The scalloped potatoes were good, but there was barely one potato provided. There were some roasted onions that were cooked until super sweet and slightly crispy.
Burger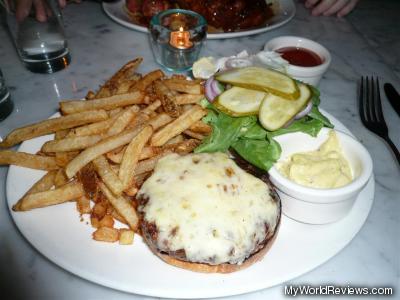 Burger
Pasture-raised beef, Vermont white cheddar, grilled onion mayo, Gus' pickles & fries
The burger was a better than average burger. It wasn't very greasy. It was a medium size. The cheese on top was really good and provided most of the flavor. The fries were good, and there were a lot of them.
Chocolate Pot De Creme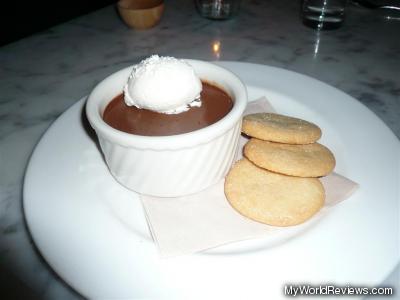 Chocolate Pot De Creme
served with sugar cookies
The sugar cookies were pretty typical. The pot de creme was very rich, chocolatey, and smooth.
review contents
Dress
Cost
Reservations
Items Ordered
Artichoke Lasagnette
All-Natural Niman Ranch Flap Steak
Burger
Chocolate Pot De Creme
related reviews
More reviews in New York, NY
Been here? Want to write your own review of this restaurant?