Your Reviews About the World
MyWorldReviews.com
Let the world know what you think
Hotel Roger Williams
New York, New York, United States
131 Madison Ave
New York, New York, United States
10016
212-448-7000
hotelrogerwilliams.com
View Map
Overall Experience:
8 / 10
Check-In Date:
Tuesday, April 1, 2008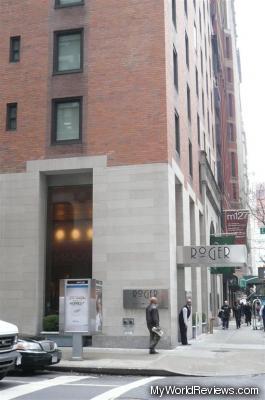 Hotel Roger Williams is located in midtown Manhattan. It is fairly close to the Empire State Building, and an easy walk to Grand Central Station. The hotel is slightly upscale (4-star) and offers very nicely furnished rooms that seem quite new and modern.
The hotel is located on Madison Ave which is not as busy as some of the other larger avenues. I found the noise level in the room was not bad considering I was staying in midtown Manhattan.
There is free wireless internet available at the hotel, but a wired connection costs extra. The hotel has a 24 hour gym and a lounge offering food and drinks.
The Room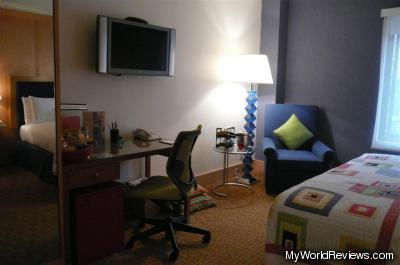 The room layout varies quite a bit. The first room I was given had a window that was hidden behind a screen. I found the room to be too dark and requested to change rooms. The staff was quite considerate and was able to move me to a room with a visible window that looked out onto the city. My new room had a view of the Empire State Building.
The room felt quite new with modern furniture, soft carpets, and a fairly large flat screen TV hanging on the wall. The rooms with a single bed have a king size bed and lots of pillows. There was also a closet with a small safe inside. The mini bar is somewhat spread around the room. There were water and wine bottles set up on different tables, each with associated prices.
The Bathroom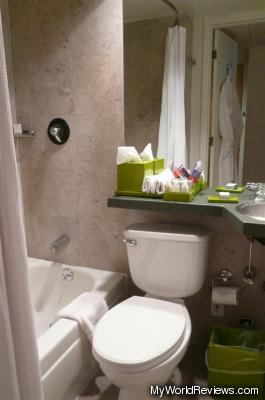 The bathroom
The bathroom seemed fairly new, but was quite small. The sink and bathtub were on the small side, but everything worked well. The bathroom was well equipped with very nice soaps and shower essentials, a hair dryer, and even some additional toiletries available for purchase.
Cost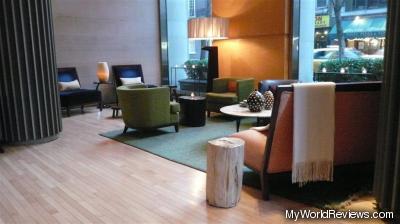 The lobby
Room rates vary, but expect to pay around $300 per night. There are several taxes added on top of your quoted room rate that add up to an additional 20%.
review contents
The Room
The Bathroom
Cost
related reviews
More reviews in New York, NY
Been here? Want to write your own review of this hotel?