Your Reviews About the World
MyWorldReviews.com
Let the world know what you think
Hot Clay Oven
New York, New York, United States
101 Maiden Lane
New York, New York, United States
10038-4813
212-269-2103
hotclayoven.com
View Map
Overall Experience:
6 / 10
Date Visited:
Monday, May 9, 2011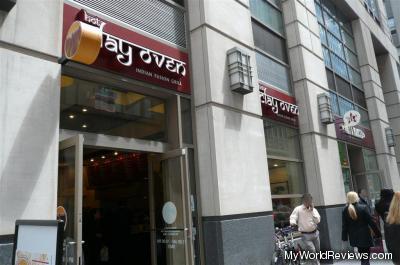 Hot Clay Oven
Hot Clay Oven is an "indian fusion" restaurant located in Manhattan's financial district. They offer fast food-style indian food in wraps, salads, and rice bowls. It's quite a clever idea. The line can be pretty long at lunchtime, but it moves quickly.
I like the flexibility of their ordering system, but have found that I often make sub-par choices - occasionally pairing proteins with sauces that don't go very well together. I wish they had some pre-made recommendations.
Dress
Very casual
Cost
Each wrap/salad/rice bowl is $7.58
Service
The first step is to pick your entree (wrap, naan wrap, rice bowl, or salad bowl) and your protein (a variety of chickens in different sauces, pork vindaloo, channa masala chickpeas, or tandoori paneer). The next person at the counter puts toppings on your entree such as peppers, onions, cheese, raisins, lettuce, tomatoes, or carrots. The next person puts on whatever sauces you choose. They have a fairly large selection. The last person in line takes your drink order and takes your money.
Items Ordered
Malai Chicken in a Naan Wrap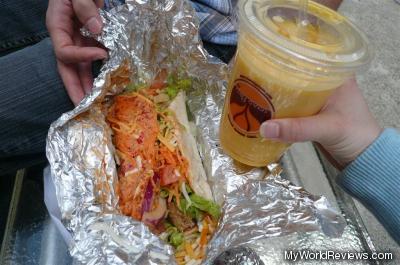 Wrap & Mango Lassi
Malai Chicken - Marinated in sour cream and spices
Cost:
$7.58 for the wrap and $3.70 for the mango lassi
The chicken wrap was huge! It was stuffed quite full and was difficult to eat. The sauce kept dripping everywhere, even though I still had it in its original wrapper.
I got the hottest sauce available (red chutney) on top, and it was fairly spicy. The sauce went much better with the malai chicken than it did with the channa masala (which I have tried previously). The chicken itself didn't have much of an Indian taste to it. It mostly just tasted like grilled chicken.
The mango lassi was a bit watery and not one of the best I've had.
review contents
Dress
Cost
Service
Items Ordered
Malai Chicken in a Naan Wrap
related reviews
More reviews in New York, NY
Been here? Want to write your own review of this restaurant?