Your Reviews About the World
MyWorldReviews.com
Let the world know what you think
Hell's Kitchen Flea Market
New York, New York, United States
West 39th Street
New York, New York, United States
hellskitchenfleamarket.com
View Map
Overall Experience:
2 / 10
Date Visited:
Sunday, September 28, 2008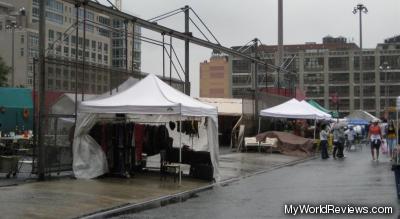 Vendors at the Flea Market
The Hell's Kitchen Flea Market is located on 39th street between 9th and 10th avenue. We visited on a rainy day, and there weren't really all that many people there. There were probably only about 15-20 vendors. It's likely that on a sunny day, there are more vendors and more people.
The vendors were mostly selling antiques and used clothes. Lots of the stuff was in poor condition, but some people like going to these things to sift through other peoples debris.
The Hell's Kitchen Flea Market is open every Saturday and Sunday, but you may want to check their website for more information.
Estimated Visiting Time
If you're the kind of person who loves browsing through stuff at flea markets, you could probably spend awhile here. After 10 minutes, I had walked by every vendor and was ready to go.
review contents
Estimated Visiting Time
related reviews
More reviews in New York, NY
Been here? Want to write your own review of this attraction?