Your Reviews About the World
MyWorldReviews.com
Let the world know what you think
H&H Bagels
New York, New York, United States
639 West 46th Street
New York, New York, United States
10036-1916
212-765-7200
hhbagels.com
View Map
Overall Experience:
3 / 10
Date Visited:
Saturday, May 28, 2011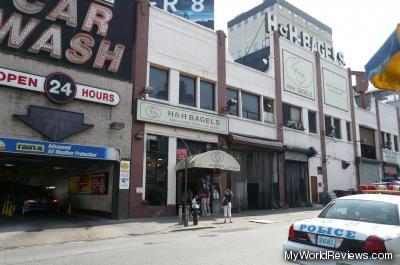 H&H Bagels
H&H Bagels is a famous bagel spot located on the west side of Manhattan. We had heard it was one of those must-try places in NYC, but were very disappointed. After living in NYC for a few years, we have tried a number of bagels from around the city, and H&H Bagels is far down on the list of great bagels.
The bagels themselves just aren't very good. Additionally, their location on the west side is a bakery and store, but not really a restaurant. You can order a bagel, but they can't toast it for you. There is no seating. They sell cream cheese to spread on your bagels, but aren't able to cut the bagels in half for you. If you're visiting H&H bagels, be sure to get your bagels to go and then take them home to enjoy them properly. Better yet, go to one of the other great bagel places in the city.
related reviews
More reviews in New York, NY
Been here? Want to write your own review of this restaurant?