Your Reviews About the World
MyWorldReviews.com
Let the world know what you think
Grazie Italian Restaurant
Cairo, Cairo, Egypt
Ramsis Hilton Hotel Annex
Cairo, Cairo, Egypt
View Map
Overall Experience:
7 / 10
Date Visited:
Monday, February 25, 2008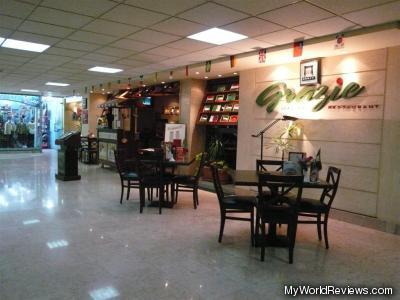 Grazie is a restaurant located on the third floor of the Ramses Hilton Annex across the street from the Ramses Hilton Hotel. They offer Americanized Italian food in Egypt. It's a good place to go if you are feeling tired of local food.
The restaurant is slightly upscale. When you arrive, they ask you where you are from. They bring you to a table and place a flag from your home country on your table. I thought it was a nice touch. It's definitely a restaurant for tourists.
Cost
The food here is very cheap by North American standards, but more expensive than the local restaurants in the area. Most entrees were about 25 LE (or approximately $4-$5).
Dress
Since this place is mainly for tourists, any comfortable clothes are fine.
Service
The servers were very polite. The staff wasn't very chatty, but they certainly spoke enough English to get through your meal.
Items Ordered
Mint Tea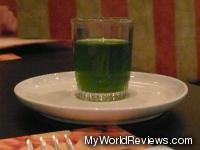 Welcome Drink
While we were waiting for our order we were each offered a welcome drink of some kind of mint tea. It was very sweet, and didn't taste very good.
Pitas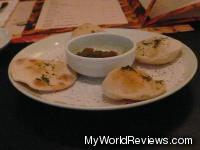 Pitas
Along with our welcome drink we were also brought a small plate of mini pitas with some kind of dipping sauce. I think the dipping sauce was some mixture containing tomatoes. It was actually pretty good and went well with the pitas.
American Pizza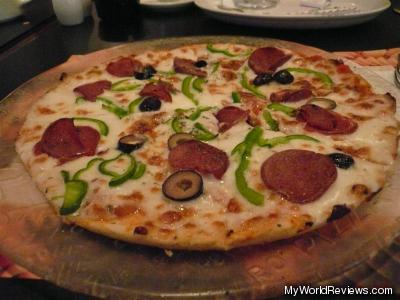 American Pizza
Tomato, Mozzarella, Pepperoni, Green Peppers & Olives
This pizza was what you would expect for an American pizza. The toppings were pretty typical. It was a pretty good size for a personal pizza. One hungry person can probably finish it on their own. The crust was thin and dry. There weren't actually any tomato slices on the pizza, just tomato sauce.
Lasagna
Lasagna
Pasta layered with meat sauce, tomato sauce & mozzarella cheese
This was a very large lasagna that could easily be shared by two people. It tasted OK, not great. There wasn't very much tomato sauce in it, but it was very cheesy.
Hot Chocolate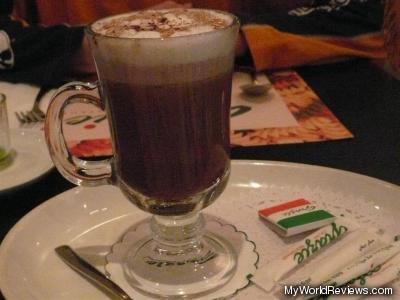 Hot Chocolate
The hot chocolate was brought out with our meal rather than as a dessert. It was hot and tasted pretty good. It also came with a little chocolate on the side.
review contents
Cost
Dress
Service
Items Ordered
Mint Tea
Pitas
American Pizza
Lasagna
Hot Chocolate
related reviews
More reviews in Cairo, Cairo
Been here? Want to write your own review of this restaurant?
linked reviews