Your Reviews About the World
MyWorldReviews.com
Let the world know what you think
Gray's Papaya
New York, New York, United States
2090 Broadway
New York, New York, United States
10023
(212) 799-0243
View Map
Overall Experience:
4 / 10
Date Visited:
Saturday, May 28, 2011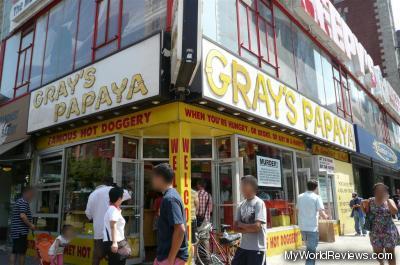 Gray's Papaya in the Upper West Side
Gray's Papaya is a fast food hot dog restaurant chain with a few locations in Manhattan. This location is located on the corner of Broadway and 72nd st in the Upper East Side. There is no seating inside, just a counter you can stand at, but there is a nice park across the street if the weather is nice.
Items Ordered
Hot Dog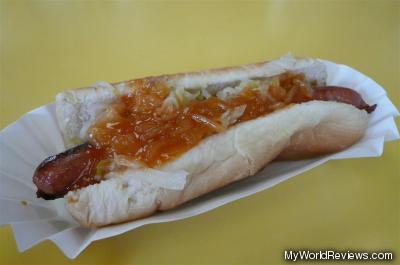 Hot Dog from Gray's Papaya
Gray's Papaya is well known for having good hot dogs, but I didn't think there was anything special about the hot dogs. They were cheap but also very small. They came with ketchup and some cabbage (I wouldn't quite call it sauerkraut) by default.
We also tried their pina colada and papaya drink which sounded great but tasted pretty poor. They were very watery.
review contents
Items Ordered
Hot Dog
related reviews
More reviews in New York, NY
Been here? Want to write your own review of this restaurant?