Your Reviews About the World
MyWorldReviews.com
Let the world know what you think
Grand Central Kaleidoscope Light Show
New York, New York, United States
Grand Central Terminal
New York, New York, United States
10017
grandcentralterminal.com
View Map
Overall Experience:
3 / 10
Date Visited:
Sunday, December 7, 2008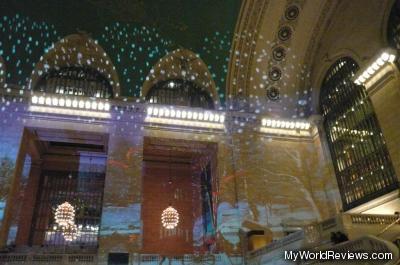 Walls of Grand Central during the show
During the month of December, Grand Central Station has a christmas light show in their large atrium. The show lasts about five minutes, and starts every half hour during the day/evening.
The show is pretty boring, really - there are a few projectors that shine christmas-themed pictures on the walls while music plays. The show is mildly enjoyable to watch if you happen to find yourself in Grand Central at the right time (when the show starts), but it's really not worthwhile making a trip to the station for.
Cost
This is a free show
Estimated Visiting Time
The show lasts for about 5 minutes. It starts on the half hour during "active" times. The last show is at 9pm most days.
review contents
Cost
Estimated Visiting Time
related reviews
More reviews in New York, NY
Been here? Want to write your own review of this attraction?