Your Reviews About the World
MyWorldReviews.com
Let the world know what you think
Goodburger
New York, New York, United States
870 Broadway
New York, New York, United States
10003
212-529-9100
goodburgerny.com
View Map
Overall Experience:
6 / 10
Date Visited:
Saturday, January 10, 2009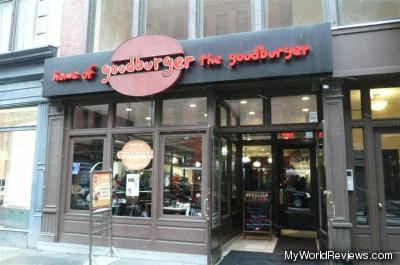 Goodburger
Goodburger is a chain of burger restaurants in New York City. They offer hamburgers, chicken burgers, fries, onion rings, milkshakes, and other traditional American grill items.
Dress
Very casual
Cost
Burgers range from $6-$7. Fries are $2.45 and onion rings are $3.25.
Service
When you go in, there will probably be a line before you can order. Wait in the line, and order when it's your turn at the counter. Your receipt will have a number on it. When your number is called, go up to the counter and pick up your order.
Items Ordered
Burger, Onion Rings, and a Vanilla Milkshake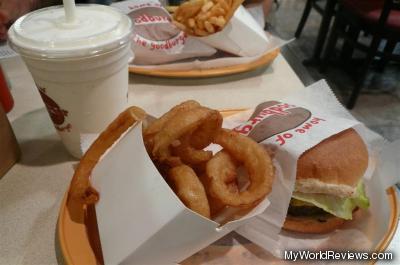 Burger, Onion Rings, and Milkshake
The original goodburger
Cost:
$5.95 for the burger, $3.25 for the onion rings, and $5.50 for the milkshake
We ordered this burger with lettuce, tomato, and ketchup. The burger is cooked medium unless specified otherwise.
The burger was pretty good - it was tasty, and a reasonable size (not too big, and not too small). It was thick and quite juicy.
The onion rings were quite tasty - they were big and battered. There weren't too many of them though... significantly more fries came in an order of fries when compared to the number of onion rings we received.
The milkshake was a decent size. It was a pretty tasty milkshake, but nothing extraordinary. We enjoyed it.
review contents
Dress
Cost
Service
Items Ordered
Burger, Onion Rings, and a Vanilla Milkshake
related reviews
More reviews in New York, NY
Been here? Want to write your own review of this restaurant?