Your Reviews About the World
MyWorldReviews.com
Let the world know what you think
Ghirardelli Chocolate Shop
Chicago, Illinois, United States
830 N Michigan Ave
Chicago, Illinois, United States
60611
312-337-9330
www.ghirardelli.com
View Map
Overall Experience:
8 / 10
Date Visited:
Wednesday, September 26, 2007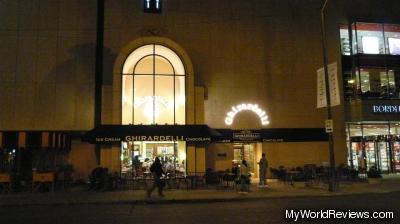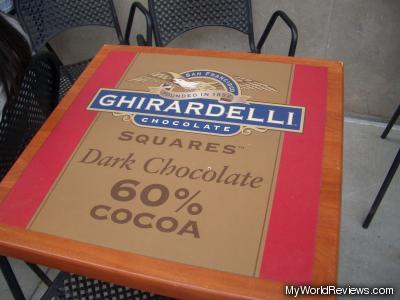 An outdoor table shaped like a Ghirardelli chocoalte
Ghirardelli Chocolates typically come from San Francisco, but while in Chicago, we were pleased to see they had a store there as well. The store sells chocolates (decoratively wrapped), and home chocolate products such as cocoa, and hot chocolate powder.
Upon entering the store, we were presented with a sample Caramel Ghirardelli chocolate - delicious! We enjoyed that while looking at their dessert menu.
This location features a small outdoor patio that has fun tables - they are made in the shape of a Ghirardelli chocolate. Different tables are different colors ("flavors" of chocolate). One of the outdoor tables is pictured here.
Cost
$7.25 for an ice cream sundae, $3-$5 for a hot chocolate.
Dress
This is a casual store and dessert location - shorts/t-shirt are fine.
Items Ordered
Intense Dark Sundaes - Toffee Interlude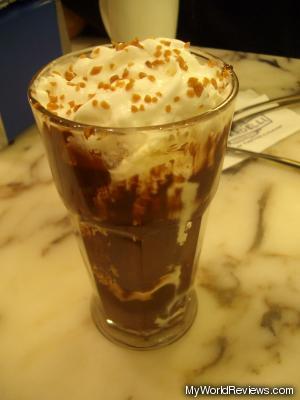 Toffee Interlude
Two scoops of vanilla ice cream, dark chocolate hot fudge sauce, toffee crumbles, whipped cream and a square of Toffee Interlude Intense Dark chocolate.
After looking at the menu description, and the picture we took, we realized that we didn't get our Toffee Interlude intense dark chocolate square! That's disappointing. In spite of that, the sundae was great. The ice cream was nice and creamy, and served with plenty of rich chocolate sauce. I found the toffee bits were actually a bit annoying - they were crunchy and got stuck in my teeth afterwards.
Chocolate Drinks - Decadent Drinking Chocolate with Biscotti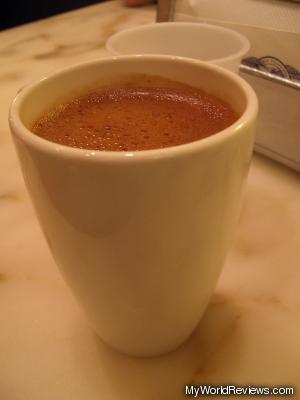 Decadent Drinking Chocolate
Made with melted Chocolate Drops and packed with intense chocolate flavor in every rich, velvety sip.
This was a seriously chocolatey beverage. It was incredibly thick and delicious. Although it looks small, this drink is so rich it is probably adequate for two people. This beverage is really quite the experience - it tastes like a creamy, melted chocolate. It is very good, but very thick and filling.
The drinking chocolate was served with a piece of biscotti - it was typical "starbucks-style" biscotti - very hard.
On a previous occasion, I have ordered the "Classic Ghirardelli Hot Cocoa" ($3.25 for a small, or $3.75 for a large), and I found it to be the most delicious hot chocolate I have ever had. In the future, I would order the classic hot cocoa, as I found the decadent drinking chocolate too heavy.
review contents
Cost
Dress
Items Ordered
Intense Dark Sundaes - Toffee Interlude
Chocolate Drinks - Decadent Drinking Chocolate with Biscotti
related reviews
More reviews in Chicago, IL
Been here? Want to write your own review of this restaurant?