Your Reviews About the World
MyWorldReviews.com
Let the world know what you think
Gentleman Farmer
New York, New York, United States
40 Rivington Street
New York, New York, United States
10002
212-677-2172
gentlemanfarmernyc.com
View Map
Overall Experience:
8 / 10
Date Visited:
Monday, January 16, 2012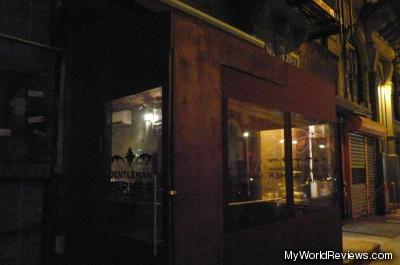 Gentleman Farmer
Gentleman Farmer is a cute restaurant located in the lower east side of Manhattan. It has a quaint west village feel. There are only 5-6 tables, and it looked like the restaurant only had one booking for each table for the evening. The floors/tables are made out of wood and the restaurant feels like the kitchen of a small farmhouse. I was quite pleased with the atmosphere, and the food was all very good.
The restaurant only accepts cash and Amex.
Dress
Smart casual
Cost
A bit more expensive than a typical LES restaurant - entrees were around $30.
Service
There was only one waiter, but he had no problems keeping up with the small number of tables in the restaurant. The only problem was when our credit card was charged $980 instead of $98 at the end of the meal. He promptly corrected the mistake.
Reservations
Reservations are recommended - it's a small restaurant.
Items Ordered
Lobster Tail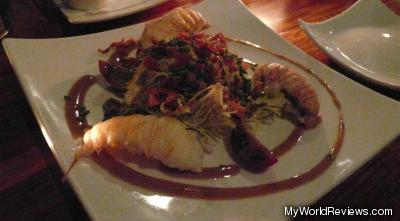 Lobster Tail
White truffle, beurre blanc, frisse lardons
The lobster tail was one of the best lobster tails I've ever had. I usually find lobster very bland, but this was very flavorful. The meat was all removed from the tail, so it was easy to get to. The beurre blanc was perhaps a bit too vinegary, but went quite well with the bacon and lobster.
Venison Facon Bourguignon
Venison Facon Bourguignon
Bacon, wild mushrooms, winter vegetables
The venison bourguignon was very good. The venison was very tender and fell apart easily. It was served in a small dish along with some onions, potatoes, and carrots. The sauce it was served in had a delicious flavor.
Ostrich Steak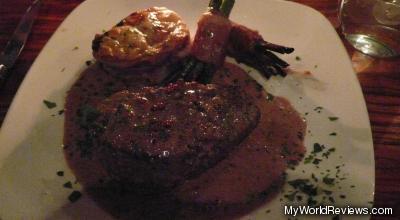 Ostrich Steak
Peppercorn sauce, prosciutto-wrapped haricots verts, rosemary gratin
The ostrich steak was a large piece of meat - probably 8-10 ounces - and it was served medium rare. It was a tender flavorful steak. It was coated in a peppercorn gravy that added a really nice flavor to the meat.
The small bundles of beans wrapped in prosciutto looked beautiful and were equally tasty.
The rosemary gratin was excellent. It consisted of a few thin layers of potato with a delicious baked cheese on top.
review contents
Dress
Cost
Service
Reservations
Items Ordered
Lobster Tail
Venison Facon Bourguignon
Ostrich Steak
related reviews
More reviews in New York, NY
Been here? Want to write your own review of this restaurant?