Your Reviews About the World
MyWorldReviews.com
Let the world know what you think
Gazala Place
New York, New York, United States
709 9th Ave
New York, New York, United States
10019
212-245-0709
gazalaplace.com
View Map
Overall Experience:
5 / 10
Date Visited:
Saturday, May 9, 2009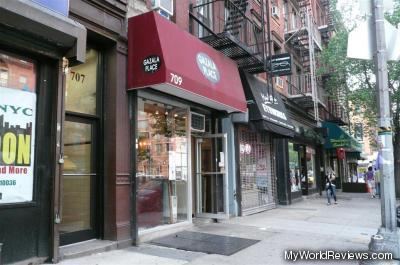 Gazala Place
Gazala Place, named after Chef Halabi Gazala, is a Druse restaurant located in the Hells Kitchen area of New York City. They offer typical middle eastern cuisine at reasonable prices. Everything we had was pretty good.
Dress
Quite casual
Cost
Most items are very affordable. Entrees are around $15, and appetizers are mostly around $5.
Items Ordered
Burekas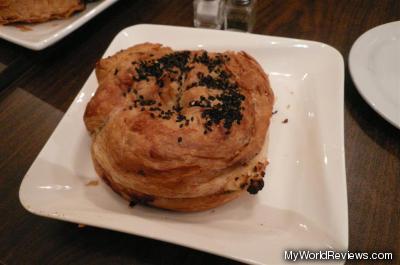 Burekas
The Burekas were quite large - they were the size of a big bagel. They were available in two flavors - goat cheese and spinach, or goat cheese and tomato.
The pastry was excellent - it was buttery, flaky, and delicious. I felt that there was too much goat cheese, and the burek was too salty. I still enjoyed it, though.
I thought the $9.50 price tag was strange... everything else at Gazala Place was very reasonably priced. $9.50 for a bureka seemed like a lot for such a simple appetizer.
Cegar and Babaganush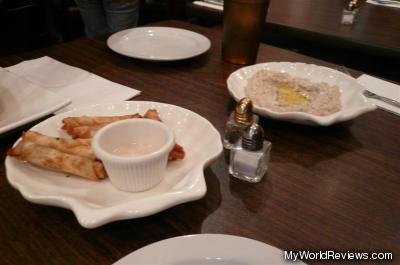 Cegar and Babaganush
Cegar: Rolled pita shell stuffed with meat, onion, and spices. Babaganush: Mashed charcoal grill eggplant with tahini sauce
Cost:
Cegar: $4; Babaganush: $3.50
The cegar was a neat appetizer - the pita rolls were hard, and possibly fried. There was a small amount of meat and onion inside. They were quite tasty. The appetizer comes with six of the little cigars.
The babaganush was pretty typical blended eggplant. It didn't come with anything, but was good for dipping with the free pita.
Pita and a Salad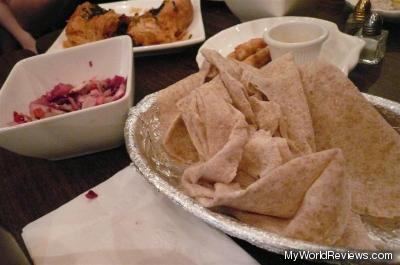 Pita and a salad
Cost:
Pita: Free; Salad: included with the kababs
Our table also received some "pitas" and a salad. The pitas were Druse style - it is a very, very thin dough. It's almost like a crepe, but not as sturdy. It is very thin, and mostly tasteless. It's not as easy to maneuver as a pita - it's difficult to stuff things in it, or roll it without it ripping.
The salad was very good. It was a sweet fruit salad, with pomegranate and cabbage.
Chicken Kabab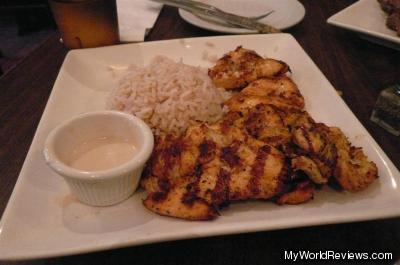 Chicken Kabab
Tender chunks of chicken flame broiled on the grill. Served with rice and home salad
The chicken kabab was a pretty typical chicken kabab. I really enjoyed the combination of spices on it. It was served with rice and a salad (which we received earlier in the meal).
Lamb Kabab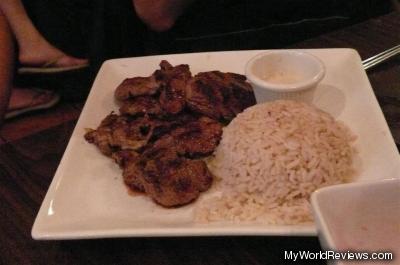 Lamb Kabab
Tender chunks of lamb flame broiled on the grill. Served with rice and home salad.
The lamb kebab was identical to the chicken kabab, except there was lamb instead of chicken.
The lamb was very flavorful, but it was quite tough. It required a fair bit of effort to cut it into bite-sized pieces.
review contents
Dress
Cost
Items Ordered
Burekas
Cegar and Babaganush
Pita and a Salad
Chicken Kabab
Lamb Kabab
related reviews
More reviews in New York, NY
Been here? Want to write your own review of this restaurant?