Your Reviews About the World
MyWorldReviews.com
Let the world know what you think
Friend of a Farmer
New York, New York, United States
77 Irving Place
New York, New York, United States
10001
212-477-2188
friendofafarmerny.com
View Map
Overall Experience:
8 / 10
Date Visited:
Saturday, August 10, 2013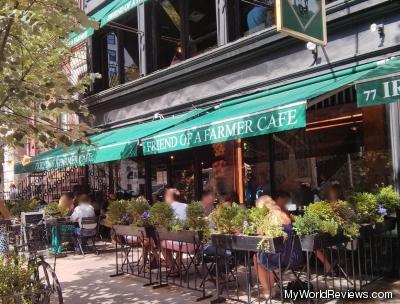 Friend of a Farmer
Seating:
Outdoor Street Patio
Friend of a Farmer is located on Irving Place just east of Union Square in New York. The restaurant is decorated inside to feel like a farm house or country home. They have a fairly large outdoor seating space. They are known for their brunch. Their menu mainly consists of farm fresh and comfort food. The food was good and the atmosphere was nice.
Dress
Casual for brunch
Cost
Most entrees were around $15
Reservations
It was fairly busy on a Saturday morning, but around 10am there was no wait for a table inside, and only about 30 min wait for an outdoor table.
Items Ordered
Weston's Blueberry Buttermilk Pancakes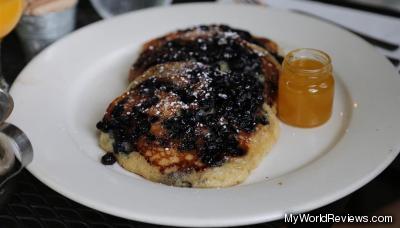 Weston's Blueberry Buttermilk Pancakes
bursting with fresh blueberries
The pancakes were bursting with blueberries! They were served with something that looked like melted butter - maple syrup was extra, but I found them to be fairly sweet, flavorful and moist that they didn't need anything on top.
Country Omelette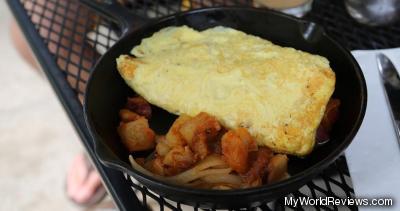 Country Omelette
bacon, onion, potatoes & cheddar cheese
The omelette was served in a hot skillet with delicious roasted potato and sweet fried onions. The omelette was pretty typical and had a decent amount of filling.
review contents
Dress
Cost
Reservations
Items Ordered
Weston's Blueberry Buttermilk Pancakes
Country Omelette
related reviews
More reviews in New York, NY
Been here? Want to write your own review of this restaurant?