Your Reviews About the World
MyWorldReviews.com
Let the world know what you think
Frank Lloyd Wright - Historic District Self-Guided Audio Tour
Oak Park, Illinois, United States
931 Chicago Avenue
Oak Park, Illinois, United States
60302
708-848-1976
www.wrightplus.org
View Map
Overall Experience:
6 / 10
Date Visited:
Friday, September 28, 2007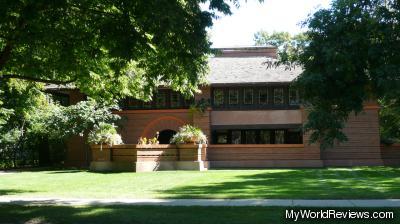 One of the houses on the walking tour
We arrived at the Frank Lloyd Wright house, hoping to catch the Home and Studio tour. Unfortunately, we had over an hour to spend until the first tour was available, so we decided to try the self-guided audio tour of Frank Lloyd Wright's houses. On the audio tour, you are provided with an iPod and a map to follow. The iPod tells you a few interesting facts about each of the twenty houses you visit on the walking tour. The total walk is approximately 2km.
Unfortunately, this tour was disappointing. It was neat to see all the different houses that Frank Lloyd Wright had designed (only from the outside), but the audio portion of the tour was lacking. The tour seemed to be more of a commentary on the design styles rather than providing interesting things to look for, or interesting facts about the houses.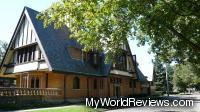 The commercial side of the home office
This wasn't true in all cases. There was one house I thought was neat - the house shown here was used as a home office. It was designed so that it would be pushed against one side of the property line, and that would be the "business" front of the house. It was designed to look like a commercial location. The other side of the house was built to look more like a residence, and it does. This demonstrated how effective your house can be if it's functions are well thought out.
Cost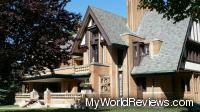 The residential side of the home office
$12 for adults. You pay for each listening device that you get. If you are cheap, you could pay for just one and have one person give a summary to the rest of the group. Also, if you're not all that interested in the audio, the map of the houses was probably the most useful thing provided for the $12.
Estimated Time of Tour
The tour probably takes about 2 hours, depending on your walking speed. We had just one hour before the home and studio tour, and we didn't get to see all the stops on the walking tour.