Your Reviews About the World
MyWorldReviews.com
Let the world know what you think
Five Points
New York, New York, United States
31 Great Jones St # 1
New York, New York, United States
10012-1178
212-253-5700
fivepointsrestaurant.com
View Map
Overall Experience:
6 / 10
Date Visited:
Friday, February 17, 2012
Five Points
Five Points is an American restaurant located in the 'central village' of NYC (nolita). The interior decor was fairly nice; there was a really small and subtle stream of water that had a small but nice waterfall. We were a bit disappointed in the food; it tasted salty and wasn't anything special.
Dress
Smart casual
Cost
Most entrees were around $30
Reservations
Reservations are probably a good idea depending on when you visit - the restaurant got pretty busy on a friday evening.
Items Ordered
Spinach Salad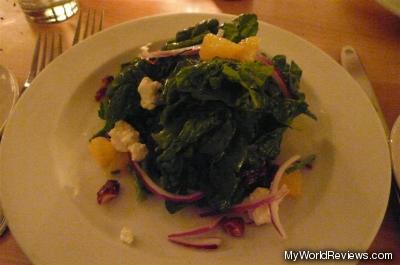 Spinach Salad
oranges, dates, fresh goat cheese, red onion, candied almonds, herbs
The spinach salad was a pretty typical salad. We were sharing it, and they split it in the kitchen (so only half is pictured here).
Double Cut Pork Chop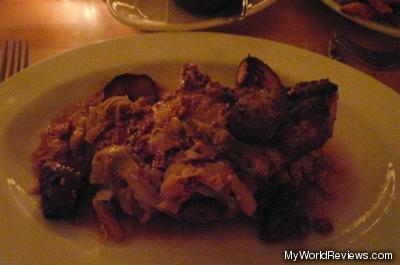 Double Cut Pork Chop
sauerkraut, roasted sunchokes, apple cider jus
The pork chop was quite large and had a couple pieces of potato on the side. I didn't think the sauerkraut went well with the pork. It also tasted like it had a mustard sauce that I disliked.
Creamy Polenta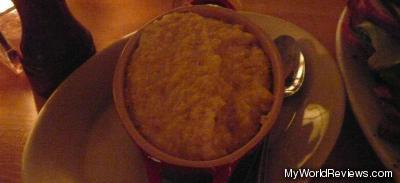 Creamy Polenta
The polenta certainly was creamy. It had a nice texture, but only had a mild corn flavor. I feel like there was more they could do with this - it was quite bland.
American Wagyu Beef Burger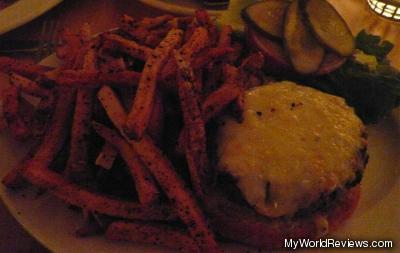 American Wagyu Beef Burger
vermont cheddar, red onion, sour pickles, fries
The burger was the one item of the evening that wasn't just a big disappointment. It wasn't the greatest burger I've had, but it was pretty good. It also came with a large portion of well seasoned fries.
review contents
Dress
Cost
Reservations
Items Ordered
Spinach Salad
Double Cut Pork Chop
Creamy Polenta
American Wagyu Beef Burger
related reviews
More reviews in New York, NY
Been here? Want to write your own review of this restaurant?