Your Reviews About the World
MyWorldReviews.com
Let the world know what you think
Fishtail
New York, New York, United States
135 East 62nd Street
New York, New York, United States
10065-7301
212-754-1300
fishtaildb.com
View Map
Overall Experience:
7 / 10
Date Visited:
Wednesday, March 30, 2011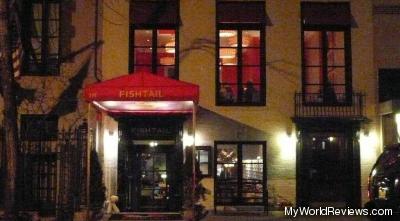 Fishtail
Fishtail is a David Burke restaurant located in midtown, NYC. Their specialty is fish, although they do have a token chicken and steak dish on their menu. The service was pretty poor when we visited, although the food was decent and the desserts were excellent.
The decor of the restaurant is worth mentioning. The upstairs had comfortable leather seats and bold red walls. The tables weren't quite as cramped as they usually are in NYC restaurants. The seating areas were spread out in three separate rooms on two floors. It felt like we were visiting someone's well decorated apartment.
Cost
Fishtail is fairly expensive. Appetizers range from $15-$20, and entrees from $30-$50.
Service
The service when we visited was really poor. We waited about 5-6 minutes at the door before someone came by to seat us. By then, there was a backlog of people waiting to be seated. We had to wait about 20 minutes before someone came by to bring us some water and take our order.
Reservations
Reservations are recommended. The restaurant isn't all that small, but it was full when we visited at 8pm on a wednesday evening.
Items Ordered
Fishtail Chopped Salad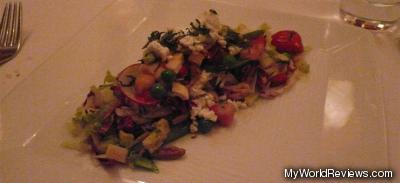 Fishtail Chopped Salad
bacon, chickpeas, peppers, cucumbers, mint, hearts of palm, baby peas, olives, asparagus, feta cheese and dijon vinaigrette
The chopped salad had a lot of little items in it all chopped up finely. The mint was a nice touch, although the dressing didn't seem quite right. The salad was average, but the dressing really felt like it didn't go with anything else.
Only half of the salad is pictured here since it was shared (and they split it across two plates).
Roasted Mayan Prawns on Fishtail Paella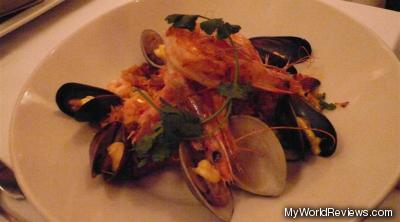 Roasted Mayan Prawns on Fishtail Paella
saffron basmati rice, chicken, chorizo and laughing bird shrimp
The paella was pretty good tasting, but it required a lot of work to eat. It was served with some mussels and clams on the side, and the shrimp still had their head and legs attached. The presentation looked interesting, but I didn't like all the extra effort removing the shrimp heads. The dish also contained two chicken wings.
The clams and mussels were served with a bit of a flavored mustard on them that added an OK flavor. The rest of the dish was rice in a lightly flavored sauce with a few small pieces of chopped chorizo.
Tempura Dorade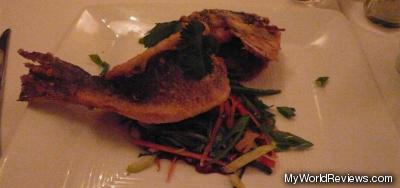 Tempura Dorade
thai peanut chili sauce
At first I thought the fish was served whole, but then I realized it was actually very carefully cleaned so that there were no bones in the middle, but the head and tail were still attached and covered in tempura batter as well. The batter was very thin and added just a hint of crispiness to the exterior. The fish itself was very light and flaky and mild tasting. The fish was sitting on a bed of vegetables and peanuts in a spicy thai sauce that went really well with the mild fish.
Strawberry Rhubarb Pie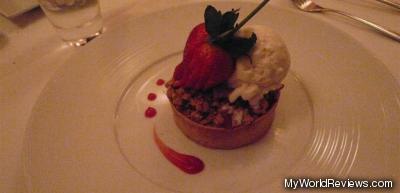 Strawberry Rhubarb Pie
lemon grass ice cream, strawberry sauce
The strawberry rhubarb tart was excellent. It had a very rich citrus flavor that went really well with the strawberries and rhubarb chunks. The lemon grass ice cream was a great citrus accompaniment.
Another member of our group ordered the "Salted Caramel Panna Cotta". It was also delicious. These were some of the best desserts we've had.
review contents
Cost
Service
Reservations
Items Ordered
Fishtail Chopped Salad
Roasted Mayan Prawns on Fishtail Paella
Tempura Dorade
Strawberry Rhubarb Pie
related reviews
More reviews in New York, NY
Been here? Want to write your own review of this restaurant?