Your Reviews About the World
MyWorldReviews.com
Let the world know what you think
Firenze
New York, New York, United States
1594 2nd Ave
New York, New York, United States
10028
212-861-9368
View Map
Overall Experience:
7 / 10
Date Visited:
Saturday, April 4, 2009
Firenze Restaurant
Firenze is an Italian restaurant located on the upper east side. There are a number of other Italian restaurants in the area, so there is plenty of selection. Everyone in our group was quite pleased with Firenze. The service was good, the food was good, and everyone left happy.
The restaurant is a bit small, and feels "cozy" on the inside. When we visited, each table had its own candle.
Dress
Fairly casual, but it is a bit of a nicer restaurant. Some people are dressed up a bit. Jeans and a nice shirt is quite appropriate.
Cost
Most pasta items are under $22, with most meat entrees in the low $20's.
Service
I thought the service was reasonably good. The staff was attentive. I was most impressed with the breads and cheese we were presented with as a pre-appetizer.
Reservations
We did not have reservations. We arrived around 7pm on a Saturday, and there were tables available.
Items Ordered
Cheese, Breads, and Olives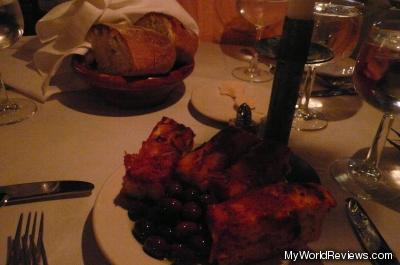 Cheese, Breads, and Olives
Most restaurants provide some bread, but Firenze first provided a plate of real parmesan cheese (which was delicious, like all parmesan cheeses from Parma), then a basket of bread, then a dish of olives with a focaccia bread on the side. The focaccia bread was very good, and had a delicious herb and tomato flavor.
Cream of Potato Soup
Cream of Potato Soup
The Cream of Potato Soup was Firenze's soup of the day. The soup itself was quite good, and was made even more delicious by the toasted bread that was placed on top. The bread and soup was a fantastic combination.
Ravioli Bella Firenze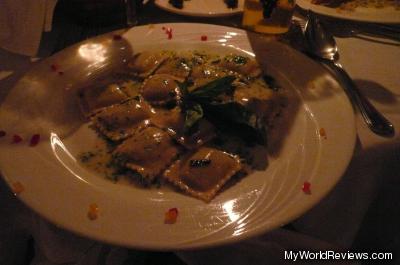 Ravioli Bella Firenze
Like Grandma used to make stuffed with Ricotta & Spinach. Served in Butter & Sage
The Ravioli were pretty tasty. They were a fairly typical ravioli, with a nice buttery cream sauce. There was a fair number of ravioli, and with the sauce it was very filling.
Pinzimonio Di Gamberi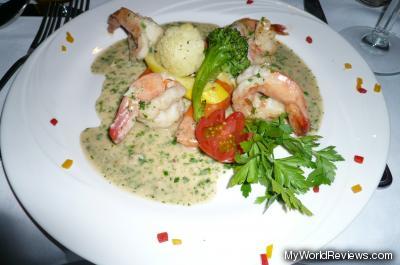 Pinzimonio Di Gamberi
Sauteed shrimp and vegetables with garlic, white wine and extra virgin olive oil
The shrimp dish consisted of four very large shrimp and a few vegetables. The white wine sauce was very rich, and went well with the shrimp. I thought the shrimp would have gone well with some pasta - fortunately, I was able to borrow some of the pasta from another member of our group.
Capellini Primavera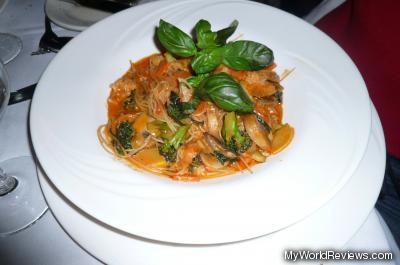 Capellini Primavera
Angel hair pasta with fresh vegetables in a light cream tomato sauce
The angel hair pasta was mixed with a good number of vegetables in a light tomato sauce. It didn't feel overly heavy. This dish was delicious and quite flavorful.
review contents
Dress
Cost
Service
Reservations
Items Ordered
Cheese, Breads, and Olives
Cream of Potato Soup
Ravioli Bella Firenze
Pinzimonio Di Gamberi
Capellini Primavera
related reviews
More reviews in New York, NY
Been here? Want to write your own review of this restaurant?