Your Reviews About the World
MyWorldReviews.com
Let the world know what you think
Felfela
Cairo, Cairo, Egypt
15 Talaat Harb St.
Cairo, Cairo, Egypt
3922833
View Map
Overall Experience:
6 / 10
Date Visited:
Wednesday, February 27, 2008
Felfela is a chain of Egyptian fast food restaurants. Their main location offers sit-down service, but this location is take away only. Apparently the staff at the main restaurant speaks English, and it is touristy. This review is for their take away location.
Items Ordered
Tamia Sandwich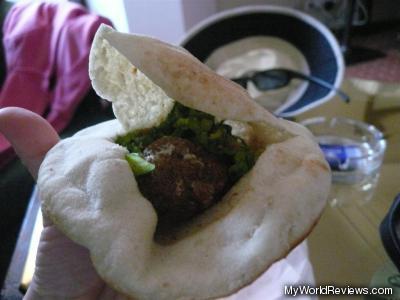 Tamia Sandwich
In Egypt, they call a Falafel sandwich a "Tamia Sandwich". The falafels are big, and flat, so they're like a falafel pancake. This Tamia sandwich had a bit of lettuce and tahini. It wasn't really that big - it was about the size for a small lunch for one person. It was a pretty good falafel though - I enjoyed it!
review contents
Items Ordered
Tamia Sandwich
related reviews
More reviews in Cairo, Cairo
Been here? Want to write your own review of this restaurant?