Your Reviews About the World
MyWorldReviews.com
Let the world know what you think
Europan Bakery Cafe
New York, New York, United States
135 Columbus Avenue
New York, New York, United States
10023
212-799-4100
europanbakerycafe.com
View Map
Overall Experience:
7 / 10
Date Visited:
Sunday, September 7, 2008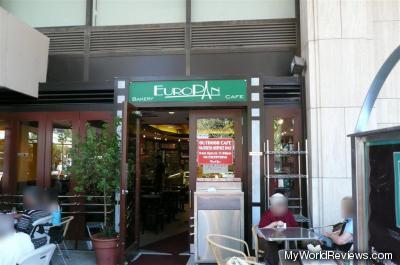 Europan Bakery Cafe
Europan Bakery Cafe is a cafe located on Columbus Ave., in midtown Manhattan. They offer tasty wraps, pizza, grilled sandwiches, and desserts. Most of the food we ordered was pretty good, although the restaurant doesn't have quite as big a selection as some of the other New York-style cafes.
Dress
Very casual
Cost
Wraps were $7.75 each
Service
There was a big sign out front saying that the outdoor seating area was waiter service only starting at 3pm, but we arrived before that. We went inside and picked out what we wanted. They wrote down our order on a piece of paper, and we presented that to the cashier to pay. They then brought our food to our table outside.
Items Ordered
Roast Sirloin Wrap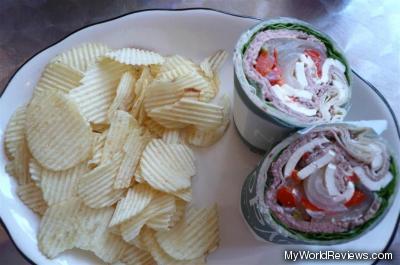 Roast Sirloin Wrap
Thin sliced beef, carmelized onions, mozzarella cheese on a southwest tortilla
The roast sirloin wrap was actually pretty disappointing. It was definitely lacking a sauce. It had some good ingredients, but didn't have much flavor at all. The mozzarella was fresh (unsalted), which is good, but the sandwich definitely needed some flavor from somewhere. The beef was also very plain, and didn't appear to have been marinated in anything.
Balsamic Chicken Wrap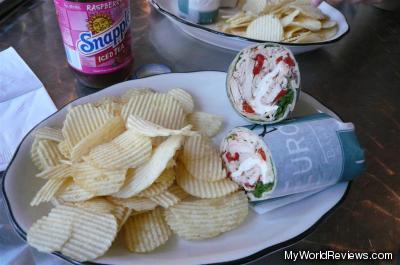 Balsamic Chicken Wrap
Grilled chicken strips, roasted peppers, fresh mozzarella, crisp lettuce and balsamic vinaigrette dressing on a plain tortilla
Like the roast sirloin wrap, the balsamic chicken wrap was served with potato chips. It had a delicious balsamic vinaigrette sauce, and was very tasty.
review contents
Dress
Cost
Service
Items Ordered
Roast Sirloin Wrap
Balsamic Chicken Wrap
related reviews
More reviews in New York, NY
Been here? Want to write your own review of this restaurant?