Your Reviews About the World
MyWorldReviews.com
Let the world know what you think
Emporio
New York, New York, United States
231 Mott Street
New York, New York, United States
10012
(212) 966-1234
www.emporiony.com
View Map
Overall Experience:
7 / 10
Date Visited:
Tuesday, September 11, 2012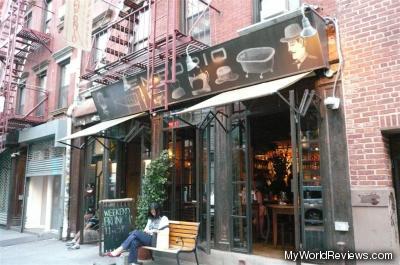 Emporio in Nolita
Emporio is the Nolita version of the SoHo restaurant Aurora. Their menus are very similar, but the Emporio restaurant also has a large glass-covered backyard. The food is pretty good, although the dishes we got were a bit greasy. All their pastas are made fresh on location.
Dress
Smart Casual
Cost
Entrees are around $15-$20
Reservations
They take reservations and the restaurant does fill up for dinner. We were able to get a table without a wait early in the evening.
Items Ordered
Barbabietole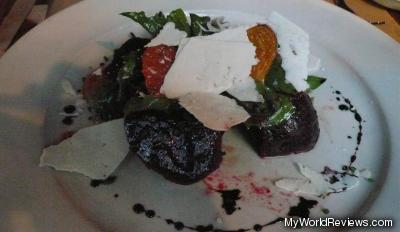 Barbabietole
wood roasted beets, local dandelion, pistachios, ricotta salata
The beet salad was mostly beets with a few orange slices, and a light vinaigrette dressing. The ricotta salata is a pressed hard ricotta cheese which is a bit salty but still mild tasting.
Le Orecchiette al Coniglio
Le Orecchiette al Coniglio
Durum wheat pasta with free range Vermont rabbit ragu, black Tuscan kale & pecorino
The orecchiette was on the specials menu. It was a salty dish and had an olive and butter sauce. The rabbit was cooked until tender and was torn into small pieces. There wasn't as much kale in the dish as I thought there would be.
Paccheri alla "Norma"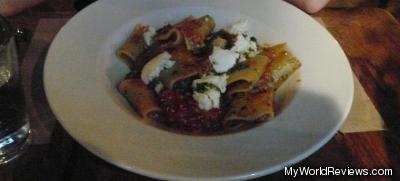 Paccheri alla "Norma"
artisan pasta with Italian eggplant, tomato, basil pesto and fior di latte mozzarella
This is one of my favorite dishes from their SoHo restaurant. It is a bit greasy, but I love the combination of a lightly cooked tomato sauce with the soft cheese and fried eggplants.
review contents
Dress
Cost
Reservations
Items Ordered
Barbabietole
Le Orecchiette al Coniglio
Paccheri alla "Norma"
related reviews
More reviews in New York, NY
Been here? Want to write your own review of this restaurant?