Your Reviews About the World
MyWorldReviews.com
Let the world know what you think
Empire State Building - Observatory
New York, New York, United States
350 Fifth Avenue
New York, New York, United States
10118
www.esbnyc.com
View Map
Overall Experience:
7 / 10
Date Visited:
Monday, December 11, 2006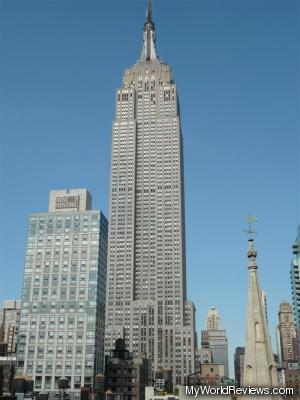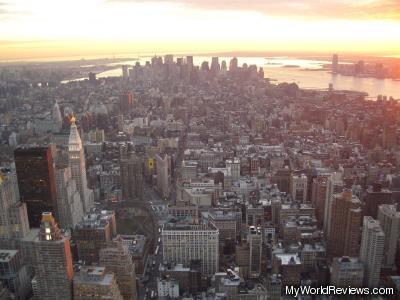 A daytime view from the Empire State Building Observatory
The Empire State Building has two observation decks - one at the 86th floor, and a smaller one at the 102nd floor. The observation deck on the 102nd floor is smaller, and may be closed when there are many visitors.
The 86th floor observation deck offers a nice view of the city. If you time your visit at the right time, you can see the daytime view, the sunset, and the night view of the city. Unfortunately, there is nowhere to sit and wait on the observation floor, and there are no exhibits or distractions available. There is a small gift shop area where you can purchase merchandise, but it doesn't take long to look at everything.
There are both indoor and outdoor (caged in) viewing areas. Before you are permitted to enter the Empire State Building, you must pass through security.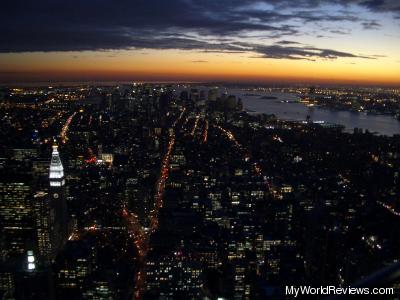 A night time view from the Empire State Building Observatory
Cost
$20 per adult
Dress
Casual - shorts and a t-shirt are fine.
Estimated Visiting Time
There isn't much to see at the top of the tower except the view - thirty minutes at the top will probably be adequate. However, the empire state building may have long lines at security, and to board the elevators.
review contents
Cost
Dress
Estimated Visiting Time
related reviews
More reviews in New York, NY
Been here? Want to write your own review of this attraction?