Your Reviews About the World
MyWorldReviews.com
Let the world know what you think
Eileen's Special Cheesecake
New York, New York, United States
17 Cleveland Place
New York, New York, United States
10012
1-800-521-CAKE
eileenscheesecake.com
View Map
Overall Experience:
6 / 10
Date Visited:
Tuesday, August 12, 2008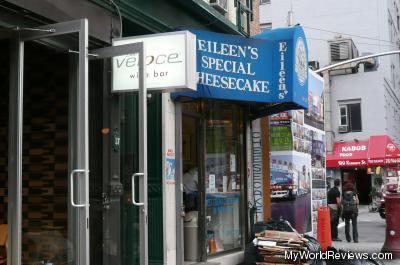 Eileen's Special Cheesecake
Eileen's Special Cheesecake is a bakery selling cheesecake in SoHo. You can order whole cheesecakes, or you can purchase a slice to take with you. It's a small store, but there is a bar and some stools to sit and enjoy your cheesecake there if you wish. There were a few other desserts besides plain cheesecake as well.
Cost
$3.50 for a slice of cheesecake.
Items Ordered
Cheesecake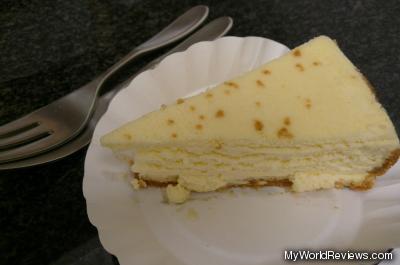 Cheesecake Piece
The cheesecake had a stronger cheese cake than I usually enjoy. It was very nice and creamy, and I certainly enjoyed eating it, but it was a bit too cheesy.
review contents
Cost
Items Ordered
Cheesecake
related reviews
More reviews in New York, NY
Been here? Want to write your own review of this restaurant?