Your Reviews About the World
MyWorldReviews.com
Let the world know what you think
Eatery
New York, New York, United States
798 9th Avenue
New York, New York, United States
10019
212-765-7080
www.eaterynyc.com
View Map
Overall Experience:
6 / 10
Date Visited:
Monday, October 29, 2012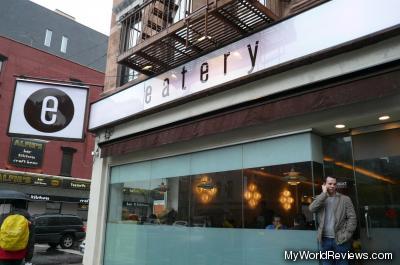 Eatery on 9th Ave
Eatery is a diner on 9th ave. that tries to make itself slightly fancier than a regular diner. They have a very recognizable purple 'e' logo on their signage. The food we had was, admittedly, better than your average diner.
Dress
Casual
Cost
Most lunch items are around $12
Items Ordered
Artichoke Flatbread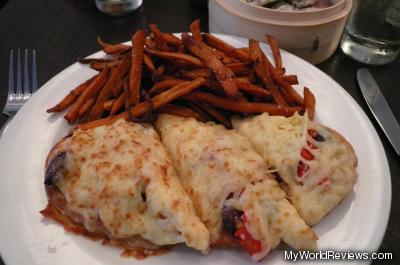 Artichoke Flatbread
roasted peppers, black olives, manchego cheese, white bean hummus & arugula salad
The artichoke flatbread was pretty good. It was covered with cheese, then toasted so the cheese melted. The fillings were very mediterranean - (artichoke, roasted peppers, and olives). My only complaint is that the flatbread was too tough. I was able to substitute the salad for sweet potato fries which were pretty good (as sweet potato fries usually are).
Mac and Jack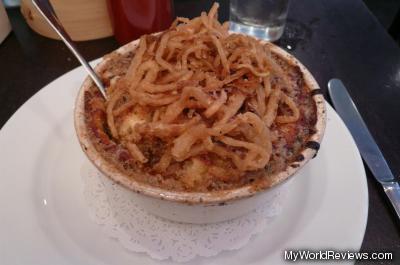 Mac & Jack
eaterys improvement on the classic macaroni and cheese topped with frizzled onions
The macaroni and cheese dish was quite good, but very (very) heavy. It looks small, but I was not able to finish it, even with some help. The pasta are very short little noodles and they're covered in a rich cheese sauce. On top, there is a coating of seasoned (garlic powder?) cheese that has been baked until it turned crispy, and then a healthy portion of shoestring onion rings. Yum!
review contents
Dress
Cost
Items Ordered
Artichoke Flatbread
Mac and Jack
related reviews
More reviews in New York, NY
Been here? Want to write your own review of this restaurant?