Your Reviews About the World
MyWorldReviews.com
Let the world know what you think
Dos Toros
New York, New York, United States
137 4th Avenue
New York, New York, United States
10003
dostoros.com
View Map
Overall Experience:
6 / 10
Date Visited:
Sunday, July 28, 2013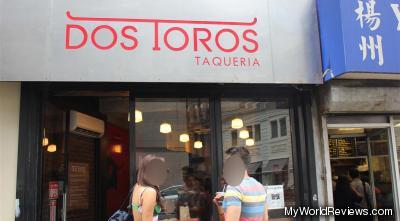 Dos Toros
Dos Toros is a chain of taco & burrito restaurants (very similar to Chipotle) in new york city. This location just south of union square is pretty small, but there are a few tables to sit. I found the quality slightly better than chipotle, but otherwise they're very similar.
Dress
Very casual
Cost
Under $10 for a plate or burrito
Items Ordered
Pollo Asado Plato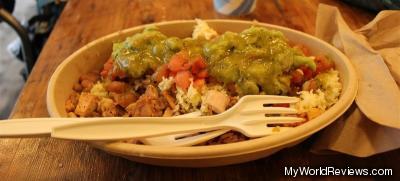 Plato
Same as a burrito, minus the tortilla. Includes Rice, Black or Pinto Beans, Cheese, Salsa and Sour Cream
Just like Chipole, at Dos Toros, you pick your meat, and then how you want it served (burrito, plate, taco, salad). We chose the plate. Guacamole was an extra $1. The medium spicy sauce was spicier than I thought - that was a pleasant surprise. The chicken also had a nice grilled flavor.
review contents
Dress
Cost
Items Ordered
Pollo Asado Plato
related reviews
More reviews in New York, NY
Been here? Want to write your own review of this restaurant?