Your Reviews About the World
MyWorldReviews.com
Let the world know what you think
Dos Caminos
New York, New York, United States
475 West Broadway
New York, New York, United States
10012-5309
212-277-4300
doscaminos.com
View Map
Overall Experience:
6 / 10
Date Visited:
Friday, August 19, 2011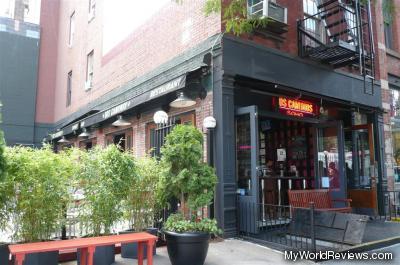 Dos Caminos in SoHo
Seating:
Indoors by the patio
Dos Caminos is a chain of nice looking Mexican restaurants. They have a few locations in NYC and we visited their location on the corner of W Broadway and Houston. We were initially seated outside by Houston street (which is a busy street, so the traffic is fairly noisy), but were moved inside just before it started to rain.
Dress
Smart casual
Cost
Most entree items were between $16-$25.
Service
We were moved inside before it rained, which was nice, but then we found it surprisingly difficult to get our waiter's attention at times.
Reservations
Reservations might be a good idea - it was pretty busy when we visited around 7pm on a friday.
Items Ordered
Guacamole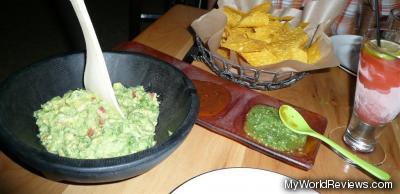 Guacamole
Made fresh and to order.
Cost:
Traditional - serves two: 14; serves four to six: 24
The guacamole was made from one avocado. It came with three different sauces - a mild green one, and two spicier red saues. We mixed the red sauces into the guacamole to give it some extra flavor and make it extra hot. It was a pretty typical good guacamole. The tortilla chips were also pretty good and typical.
Carne Asada Tacos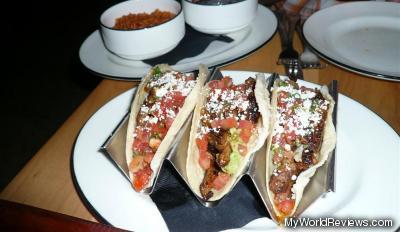 Carne Asada Tacos
Served on warm handmade corn tortillas with mexican rice, refried beans and a trio of salsas. Carne Asada - grilled chipotle-marinated sirloin steak, caramelized onions, cotija cheese, guadcamole
The carne asada tacos were a good portion size for dinner, and tasted pretty decent. They were pretty good on their own, but quite messy, so I opted to eat them with a knife and fork instead. That had the added bonus of allowing me to add the rice and beans on top. The meat was reasonably flavorful, and the tomatoes and guacamole was also pretty good.
review contents
Dress
Cost
Service
Reservations
Items Ordered
Guacamole
Carne Asada Tacos
related reviews
More reviews in New York, NY
Been here? Want to write your own review of this restaurant?