Your Reviews About the World
MyWorldReviews.com
Let the world know what you think
Dominique Ansel Bakery
New York, New York, United States
189 Spring St
New York, New York, United States
10012
212-219-2773
dominiqueansel.com
View Map
Overall Experience:
8 / 10
Date Visited:
Friday, February 17, 2012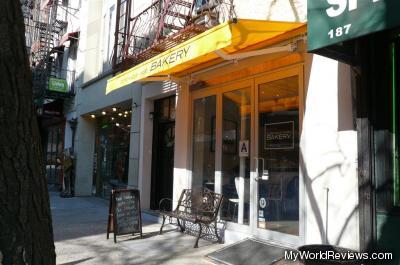 Dominique Ansel Bakery
Dominique Ansel Bakery is a small bakery that opened recently in SoHo. The bakery has a french theme. They offer a variety of pasteries and desserts as well as a small breakfast and lunch menu. For lunch, they had soups, salads, and sandwiches. In addition to having delicious food and desserts, this bakery has a huge backyard patio and sunroom. This makes for a great place to sit and eat on a hot or cold day.
Dress
Casual
Cost
Most lunch items were around $10. Most desserts were around $5.
Items Ordered
Winter Vegetable Tartine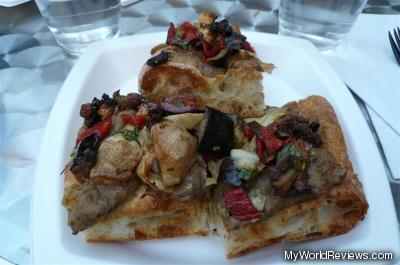 Winter Vegetable Tartine
Roasted piquillo red pepper, artichokes, roasted eggplant, and house-made babaganoush on top of pizza bianca
The tartine was a bit messy to eat, but was a delicious open faced sandwich. The bread was a bit crispy, but had a buttery taste like focaccia. The sandwich was covered in a large pile of grilled vegetables. The babaganoush - roasted mashed eggplant helped it stay all together, although a few pieces managed to escape while I ate.
Cotton-Soft Cheesecake Cotton-Soft Cheesecake
Cotton-Soft Cheesecake
This cheesecake was one of the best I've had. It had a very silky smooth texture that just melted in your mouth with goodness. It tasted like it was made from a soft, mild cheese like ricotta and tasted very fresh.
Mini-Me Cake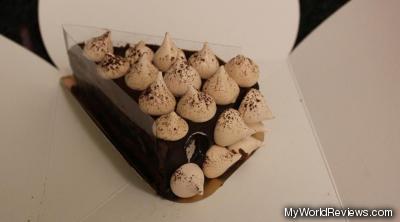 Mini-Me Cake
Rich chocolate cake topped with miniature meringues (Gluten Free)
This cake was very rich and chocolatey. The mini meringues on it were really good, but they didn't blend well with the texture of the cake. The cake looked great, but I ended up eating most of the meringues separate from the cake. I got this cake to go and it came in a very cute and clever box.
review contents
Dress
Cost
Items Ordered
Winter Vegetable Tartine
Cotton-Soft Cheesecake Cotton-Soft Cheesecake
Mini-Me Cake
related reviews
More reviews in New York, NY
Been here? Want to write your own review of this restaurant?