Your Reviews About the World
MyWorldReviews.com
Let the world know what you think
Diva
New York, New York, United States
341 West Broadway
New York, New York, United States
10013
212-941-9024
divasoho.com
View Map
Overall Experience:
6 / 10
Date Visited:
Friday, November 4, 2011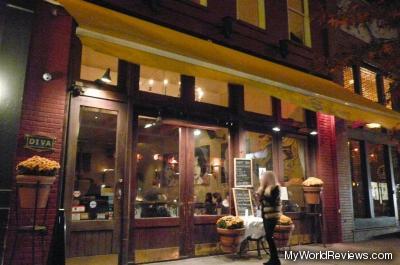 Diva in SoHo
Diva is a restaurant in the SoHo neighborhood of New York City. The food is Italian and includes several pasta and sea food dishes. The restaurant has a large wall of windows that open on warm days.
Dress
The restaurant is fairly casual, but a bit trendy.
Cost
Entrees cost around $20
Reservations
Reservations were not necessary when we visited, there were plenty of tables available on a Friday evening.
Items Ordered
Caesar Salad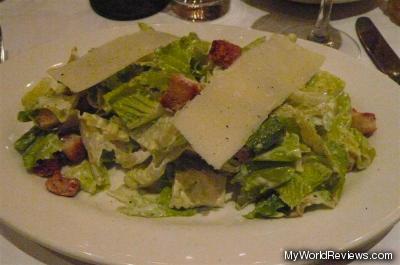 Caesar Salad
with parmeasan croutons
This tasted like a typical Caesar salad. There was nothing special about it, except the cheese on it was a good cheese.
Phyllo Wrapped Goat Cheese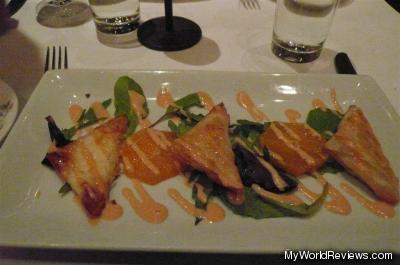 Phyllo Wrapped Goat Cheese
organic greens and orange slices with pomegranate vinaigrette
This was a really nice appetizer. The phyllo pastries were filled with a sweet goat cheese that complemented the sweet and sour orange slices and pomegranate vinaigrette.
Semolina Gnocchi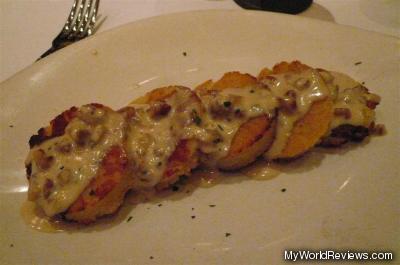 Semolina Gnocchi
with gorgonzola and walnut sauce
I've never had gnocchi like this - they were more like deep fried potato patties. I normally don't like gorgonzola cheese, but it tasted very subtle in this dish. It was really good melted on top of the gnocchi and mixed with the walnut sauce.
Grilled Filet of Salmon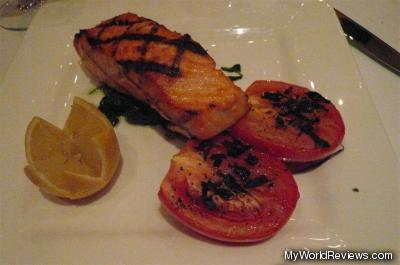 Grilled Filet of Salmon
with sauteed spinach and roasted tomatoes
The salmon was a very boring entree. The fish was incredibly plain tasting - there was nothing on it. The spinach was creamy and a bit salty. It added some flavor to this dish, but it was still very bland.
review contents
Dress
Cost
Reservations
Items Ordered
Caesar Salad
Phyllo Wrapped Goat Cheese
Semolina Gnocchi
Grilled Filet of Salmon
related reviews
More reviews in New York, NY
Been here? Want to write your own review of this restaurant?