Your Reviews About the World
MyWorldReviews.com
Let the world know what you think
Dhaba
New York, New York, United States
108 Lexington Avenue
New York, New York, United States
10016
(212) 679-1284
dhabanyc.com
View Map
Overall Experience:
7 / 10
Date Visited:
Sunday, May 20, 2012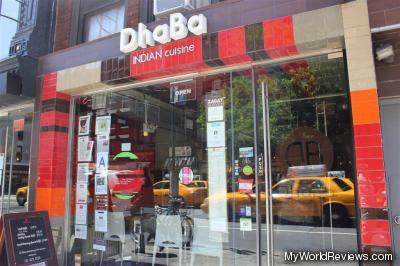 Dhaba Indian Restaurant
Dhaba is an Indian restaurant in the Murray Hill neighborhood of NYC. It is surrounded by many other Indian restaurants. They offer a lunch buffet with several meat and vegetarian dishes. The food was all typical decent Indian food at a reasonable price.
Dress
Casual
Cost
$12.95 for the Sunday Lunch Buffet
Reservations
Reservations were not necessary for Sunday brunch, there were lots of tables available.
Items Ordered
Sunday Lunch Buffet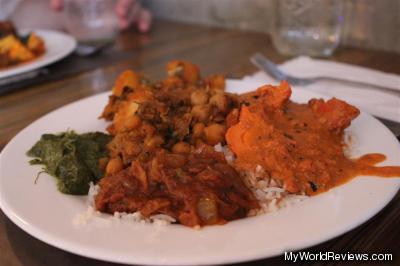 Plate of food from the lunch buffet
The Sunday lunch buffet may have been more expensive because it also came with fresh hot naan bread, and a potato bread served with a tomato sauce. The buffet included 3 or 4 vegetarian dishes, and 3 or 4 meat dishes. They were mostly typical Indian dishes, although I tried a cauliflower and okra dish I have not had before. There was also the typical Indian salad, yogurt and desserts. Everything I tried was very good, but nothing was very spicy.
review contents
Dress
Cost
Reservations
Items Ordered
Sunday Lunch Buffet
related reviews
More reviews in New York, NY
Been here? Want to write your own review of this restaurant?