Your Reviews About the World
MyWorldReviews.com
Let the world know what you think
David Burke Kitchen
New York, New York, United States
23 Grand Street
New York, New York, United States
10013
212.201.9119
www.davidburkekitchen.com
View Map
Overall Experience:
7 / 10
Date Visited:
Monday, May 20, 2013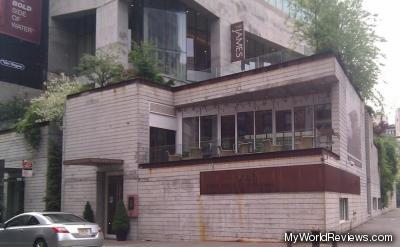 David Burke Kitchen
David Burke Kitchen is a modern, classy restaurant in SoHo. They have quality food, with unique ingredient combinations, combined with an artistic decor. They have a large outdoor rooftop garden full of trees and plants. The dining room is very classy, but on a nice night it was hard to resist a seat outdoors. The only downside is that it is in a high traffic area right near the Holland Tunnel.
Dress
The garden was casual.
Cost
Appetizers are around $15 and entrees are around $30.
Service
The service was a bit slow when we visited. The garden was also more casual, with artistic picnic cutlery. This made it difficult to eat the pork chop. They really should have brought out a good steak knife for the pork chop.
Reservations
Reservations are recommended and are accepted online.
Items Ordered
Bacon Wrapped Dates and Grilled Vegetable Terrine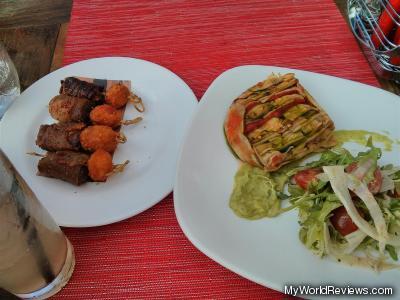 Bacon Wrapped Dates and Grilled Vegetable Terrine
Bacon Wrapped Dates with peanut butter and fried grapes
Grilled Vegetable Terrine with avocado mousse and fennel slaw
Cost:
Bacon Wrapped Dates - $9
Grilled Vegetable Terrine - $15
The Bacon Wrapped Dates were amazing! They were sweet and salty and the grape added a bit of sour too. It was a surprising combination that I haven't had before.
The Grilled Vegetable Terrine was very fresh tasting. It was served cold with a bit of a citrus and olive oil taste. It was a great summery dish.
Pork Chop
Pork Chop
cumin bacon / mango chutney / onion rings
The pork chop had just a touch of sauce under it, along with lots of chunks of mango. It was a good combination, but could have benefited from a bit more flavor. The onion rings were fried with a light crispy crust. I didn't notice the cumin in the bacon.
Grilled Branzino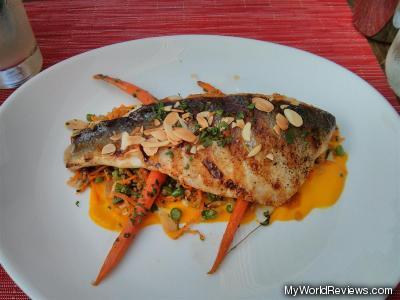 Grilled Branzino
quinoa / roasted carrot / almonds / cumin citrus glaze
I don't normally like fish, but this was a well flavored dish. The Branzino had a nice taste to it from the glaze. There was a nice tasting quinoa mixed with carrots under the fish.
Triple Berry Trifle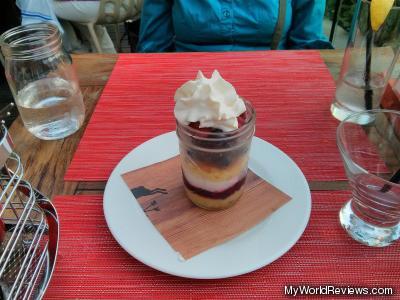 Triple Berry Trifle
almond sponge cake / hudson valley whipped cream
The trifle was served in a little narrow glass. It was hard to scoop out of with the little picnic spoons we had available. The sponge cake was dense but moist, and the whipped cream was great. There was a nice selection of fresh blueberries, strawberries, and raspberries layered in between the sponge cake.
review contents
Dress
Cost
Service
Reservations
Items Ordered
Bacon Wrapped Dates and Grilled Vegetable Terrine
Pork Chop
Grilled Branzino
Triple Berry Trifle
related reviews
More reviews in New York, NY
Been here? Want to write your own review of this restaurant?