Your Reviews About the World
MyWorldReviews.com
Let the world know what you think
Darbar Grill
New York, New York, United States
157 East 55th St
New York, New York, United States
10022
212-751-4600
www.darbargrill.com
View Map
Overall Experience:
8 / 10
Date Visited:
Saturday, April 24, 2010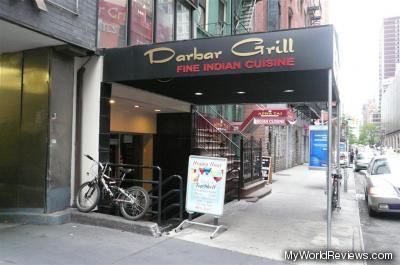 Darbar Grill
Darbar Grill is an Indian restaurant located in midtown, Manhattan. They have a slightly upscale decor and great service, although they are still quite affordable.
Dress
The restaurant was mostly empty when we were there, so it was hard to tell. The decor was fairly nice, so smart casual (nice jeans) is probably appropriate.
Cost
Most entree items were around $14.
Service
When they brought out the items we had ordered, they scooped some of each onto our plate. How nice! I haven't had anyone do that for me in years.
When we ordered, they also asked us how spicy we wanted everything. We asked for medium, and everything was spiced just the right amount.
Reservations
We made a reservation through opentable.com - Darbar was one of the options offering 1000 "bonus points", so we thought we would give them a try. Reservations were not necessary on a Saturday evening - the restaurant was mostly empty.
Items Ordered
Vegetable Samosas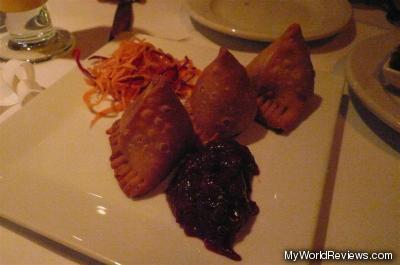 Vegetable Samosas
Seasoned potatoes & peas wrapped in a light pastry.
The vegetable samosas were small ones, so there was a lot of dough (compared to the amount of filling).
Chicken Tikka Masala, Chole, and Aloo Gobi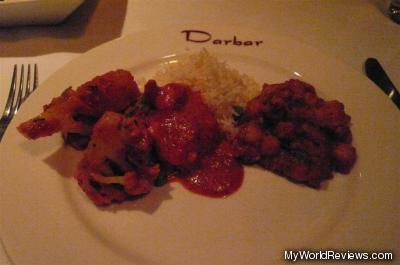 Chicken Tikka Masala, Chole, and Aloo Gobi
Chicken Tikka Masala: Clay oven cooked white meat chicken simmered in a tomato and onion sauce. Chole: Chick peas cooked with onions, tomatoes, and potatoes Aloo Gobi: Stir fried potatoes and cauliflower cooked with ginger and garlic
Cost:
Chicken Tikka Masala: $16; Chole: $12; Aloo Gobi: $12
Everything was delicious! The chicken tikka masala was creamy with a nice tomato flavor. The Chole and Aloo Gobi were all spiced perfectly, and were excellent.
The picture shows the food that had been scooped out onto my plate. There was plenty left in the dish for taking more. We shared the dishes that we ordered, but 1-2 dishes per person is plenty to eat. Rice and naan bread are sold separately.
review contents
Dress
Cost
Service
Reservations
Items Ordered
Vegetable Samosas
Chicken Tikka Masala, Chole, and Aloo Gobi
related reviews
More reviews in New York, NY
Been here? Want to write your own review of this restaurant?