Your Reviews About the World
MyWorldReviews.com
Let the world know what you think
Dallas Jones BBQ
New York, New York, United States
178 West Houston St.
New York, New York, United States
10014
212-333-3366
dallasjonesbbq.com
View Map
Overall Experience:
4 / 10
Date Visited:
Friday, November 12, 2010
Dallas Jones BBQ
Dallas Jones BBQ is a southern restaurant located near 6th ave and Houston Street. They offer traditional high-fat southern food at reasonable prices. Their food tasted great when we ate it, but I think it was too much for my body - I had indigestion for the next 24 hours.
We had a bit of difficulty finding Dallas Jones BBQ - their address is on W Houston street, but the restaurant itself is located on Bedford Street, just west of where Houston and Bedford split.
Dress
Very casual
Cost
Pretty reasonable - you can get a full meal for $10-$15.
Reservations
I don't know if they take reservations or not. The restaurant itself is quite small, with only a few tables. When we visited they were all full, so we placed our order for take out.
Items Ordered
Fried chicken Tenderloin Platter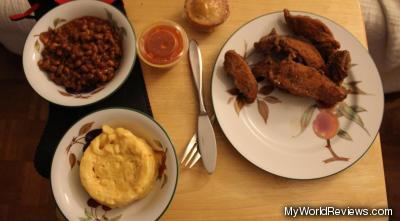 Fried Chicken & Sides
Served with any 2 side orders + a piece of corn bread
I ordered my fried chicken with a side of "Southern Baked Beans" and "Macaroni & cheese". The beans were in a nice pork sauce. The mac & cheese was in a very thick cream sauce that tasted very heavy. The chicken itself was nicely seasoned, breaded, and fried. It tasted great but was also pretty heavy.
Pulled Pork Sandwich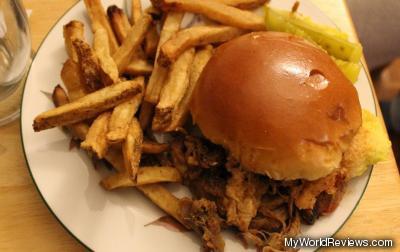 Pulled Pork Sandwich
Fresh ham smoked for 16 hours with hickory, apple and cherry woods. Served with Hand cut French fries and cole slaw.
The pulled pork sandwich was pretty typical. It was served on a greasy egg roll with lightly flavored and fatty pork inside. It was also served with a pickle on the side.
The french fries were pretty good thick-cut fries. They packed them separately for us so they wouldn't be too soggy when we got them home.
review contents
Dress
Cost
Reservations
Items Ordered
Fried chicken Tenderloin Platter
Pulled Pork Sandwich
related reviews
More reviews in New York, NY
Been here? Want to write your own review of this restaurant?