Your Reviews About the World
MyWorldReviews.com
Let the world know what you think
Cupcake Stop
New York, New York, United States
Broadway & Spring St
New York, New York, United States
718-702-2825
www.cupcakestop.com
View Map
Overall Experience:
6 / 10
Date Visited:
Saturday, May 29, 2010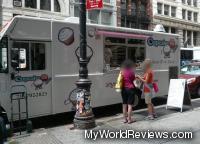 Cupcake Stop truck
The Cupcake Stop sells cupcakes in NYC. They now have a store location, but their main store is their truck that sells cupcakes on the side of the street. Their website lists their usual locations on different days.
Cupcakes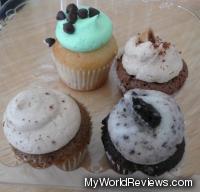 Mini Cupcakes
The cupcakes at cupcake stop are some of the better ones I've had. The cupcakes are moist and the icing is creamy. The mini cupcakes are overpriced at $1.25 each, even though they are less than a 1/5th the size of a regular cupcake. Regular cupcakes are about $3, and much more worthwhile. The benefit of getting mini cupcakes is that you can try more flavors, and they did have some excellent flavors to choose from. Picture here is Nutella crunch, chocolate Oreo, mint chocolate chip, and cappuccino.
review contents
Cupcakes
related reviews
More reviews in New York, NY
Been here? Want to write your own review of this restaurant?