Your Reviews About the World
MyWorldReviews.com
Let the world know what you think
Cosimo's Brick Oven
Sarasota, Florida, United States
3501 South Tamiami Trail
Sarasota, Florida, United States
34239
941-363-0211
www.cosimos.net
View Map
Overall Experience:
6 / 10
Date Visited:
Friday, February 13, 2009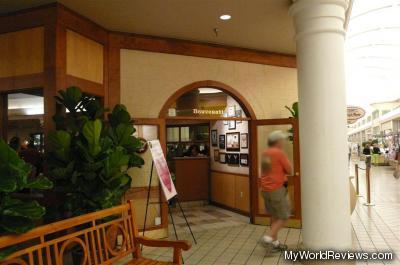 Cosimo's in Westfield Mall
Cosimo's is a restaurant located in the Westfield Southgate Mall in Sarasota. They have a second location in the Westfield Sarasota Square Mall. The food quality is mediocre, but very good value. It is a family friendly restaurant serving Italian style food.
Dress
Casual - shorts and a t-shirt are fine.
Cost
We ordered the family-style dining menu which worked out to about $10 per person.
Service
The waiter we had was very friendly and helpful. He was very attentive and brought us extra bread and oil.
Reservations
The restaurant wasn't very busy, and it didn't seem that reservations were necessary.
Items Ordered
Bread and dipping oil
Bread Basket
The bread was served hot and fresh, with a nice herb-vinegar oil for dipping.
Family Style Dinner
Cost:
$36.99 for four and $9.25 for each additional person
For family-style dining, you choose one salad, one entree, and one pizza. They bring each item to the table in one large bowl, and you share the food with your group, scooping a portion onto your plate. It is quite good value.
Insalata Moderna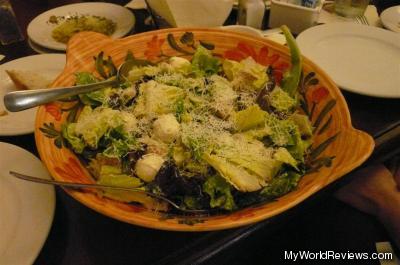 Insalata Moderna
Romaine, greens, calamata olives, croutons & fresh mozzarella in our caesar dressing
The salad was not bad. I didn't like the dressing very much. It didn't quite fit with this type of salad. There was also too much dressing, which is typical at most restaurants. There were also very many olives in the salad, and only two members of our group liked olives.
Grilled Chicken Pesto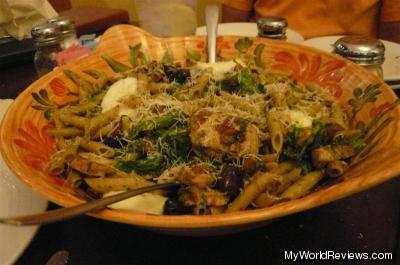 Grilled Chicken Pesto
Your choice of pasta with chicken, tomatoes, calamata olives with pesto sauce, fresh mozzarella & baby arugula.
We ordered this dish with a whole wheat pasta. The dish was very olive oily. It did not have much flavor besides the olive oil. It was not a very flavorful pesto. The chicken and fresh mozzarella were good in the pasta, but overall this dish was lacking flavor.
New York Style Pizza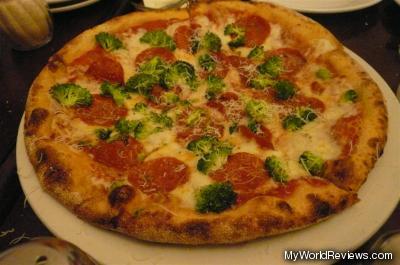 New York Style Pizza with Pepperoni and Broccoli
12" round New York style with mozzarella cheese & our pizza sauce with your choice of two toppings.
We ordered the pizza with pepperoni and broccoli. The pizza was a pretty typical pizza, but with a thin crust. They nicely cut it in 5 slices for our group of 5.
Tiramisu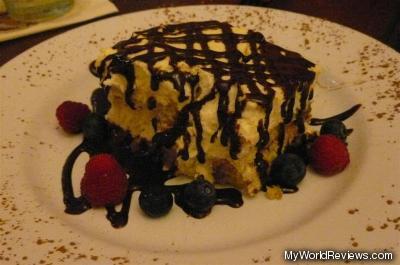 Tiramisu
This classic Italian dessert is an ambrosial experience. Espresso-soaked lady fingers with layers of delicious homemade mascarpone mousse, a touch of Marsala wine, and topped with decadent chocolate sauce.
The tiramisu was pretty good. The piece was fairly large, and came with some delicious berries on the side. It wasn't one of the best tiramisu's I've had, but it was not bad.
Dessert was not included in the family style price, so we ordered this separately.
review contents
Dress
Cost
Service
Reservations
Items Ordered
Bread and dipping oil
Family Style Dinner
Insalata Moderna
Grilled Chicken Pesto
New York Style Pizza
Tiramisu
related reviews
More reviews in Sarasota, FL
Been here? Want to write your own review of this restaurant?