Your Reviews About the World
MyWorldReviews.com
Let the world know what you think
Corner Bakery Cafe
Chicago, Illinois, United States
224 S. Michigan Ave.
Chicago, Illinois, United States
60604
312-431-7600
www.cornerbakerycafe.com
View Map
Overall Experience:
6 / 10
Date Visited:
Wednesday, September 26, 2007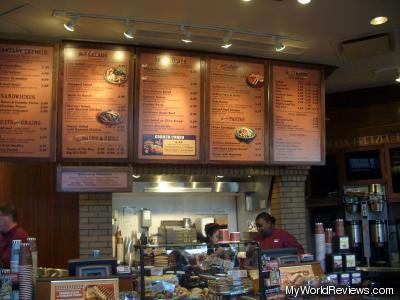 Inside the Corner Bakery Cafe
Corner Bakery Cafe is a chain of restaurants that serves soup and sandwiches. This particular location is located inside the Santa Fe building (on S Michigan Ave, between E Adams and E Jackson), next to the Chicago Architecture Foundation.
Cost
Sandwiches are between $6 and $7.
Dress
Casual - shorts and a T-shirt is fine.
Items Ordered
Club Panini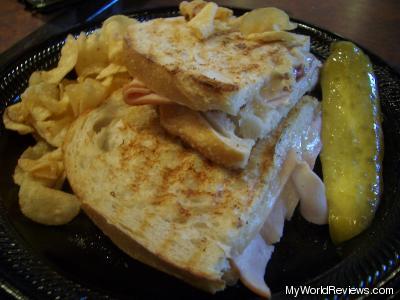 Club Panini
Smoked turkey and bacon, white cheddar, tomato, mayo on grilled sourdough country bread
Unfortunately, when we ordered this sandwich, they forgot to put tomato on it! We were quite disappointed. The sandwich turned out to be nothing but a grilled cheese sandwich with some turkey. There were two small strips of bacon on the sandwich (but it really needed more like four to cover the complete sandwich). The bread tasted like a plain white bread, not a sourdough.
Now that I've complained about the sandwich, it actually tasted quite good. A bacon, turkey, and cheese sandwich is nothing to complain about - plus, there were kettle chips to enjoy afterwards. The reason this restaurant received the poor score of 6/10 is because we felt cheated that they left off the tomato. It felt like the sandwich was missing vegetables, and we didn't realize until later that there was supposed to be tomato on it.
review contents
Cost
Dress
Items Ordered
Club Panini
related reviews
More reviews in Chicago, IL
Been here? Want to write your own review of this restaurant?