Your Reviews About the World
MyWorldReviews.com
Let the world know what you think
Coppola's
New York, New York, United States
378 Third Ave
New York, New York, United States
212-679-0070
www.coppolas-nyc.com
View Map
Overall Experience:
7 / 10
Date Visited:
Tuesday, April 1, 2008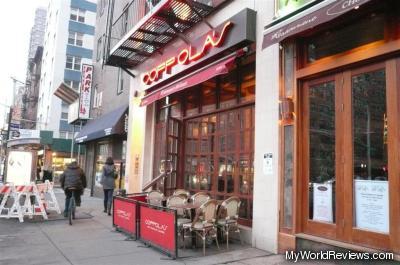 Coppola's is a slightly upscale Italian restaurant located in midtown Manhattan. It's a medium sized restaurant with a small bar and several tables. The menu selection is quite large and we had a difficult time deciding what to order. The food was all pretty average - good, although nothing spectacular.
Cost
Most entrees were $15-$20.
Dress
Fashionable casual.
Service
There was nothing outstanding about the service. It had a slightly upscale feel.
Parking
There is no specific parking for the restaurant. There are parking spaces on the street just outside the restaurant (although it may be difficult getting one).
Items Ordered
Bread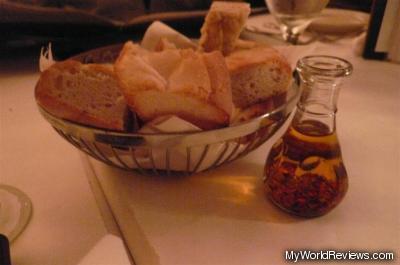 Bread
We were brought a selection of Italian breads. The bread was also served with a little pitcher of olive oil mixed with some herbs.
Insalata Special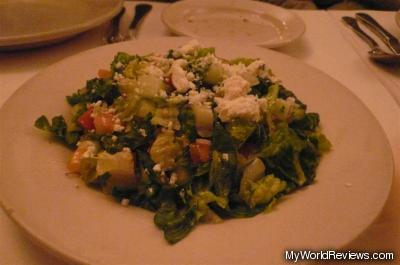 Insalata Special
Chopped Salad with Tomatoes, Onions, Cucumbers, Feta Cheese in a Light Olive Oil Lemon Dressing
The vegetables in the salad were chopped into small pieces. This is especially convenient with lettuce. There was a good amount of feta cheese and vegetables, and not too much lettuce. The dressing had a mild flavor and was not too greasy.
Focaccia Classica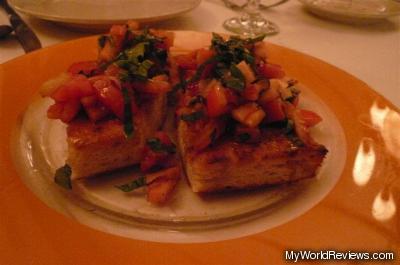 Focaccia Classica
Focaccia Topped with Marinated Tomatoes, Onions and Basil with Mozzarella
There were four pieces of bread served. They were very much like a bruschetta on focaccia bread. It was quite good, although I found it to have a little too strong of a vinegar taste.
Capellini Verde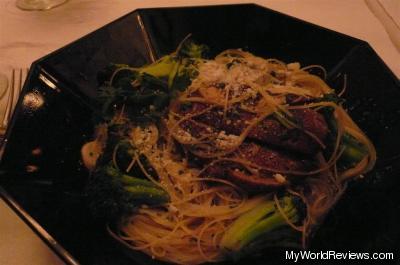 Capellini Verde
with Roasted Garlic, Olive Oil, Broccoli Flowers, and Grilled Portobello
This was an angel hair pasta dish with several large pieces of broccoli and one large grilled portobello mushroom. The mushroom was actually quite good. The brocolli was fairly plain, the pasta was lightly flavored, and I didn't think there was too much garlic. I had Parmesan cheese sprinkled on top, which I think made the dish much better.
review contents
Cost
Dress
Service
Parking
Items Ordered
Bread
Insalata Special
Focaccia Classica
Capellini Verde
related reviews
More reviews in New York, NY
Been here? Want to write your own review of this restaurant?