Your Reviews About the World
MyWorldReviews.com
Let the world know what you think
Coney Island Boardwalk
New York, New York, United States
Coney Island Boardwalk
New York, New York, United States
View Map
Overall Experience:
6 / 10
Date Visited:
Sunday, May 24, 2009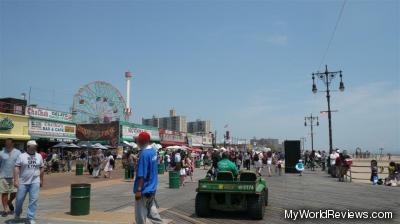 Coney Island Boardwalk
Coney Island has a great beach and boardwalk that's easily accessible via the New York City Subway. It's hard to believe that there's such a great beach so close to the city! The beach is well maintained, and there are lots of lifeguards. The boardwalk and beach are free for walking/swimming.
The boardwalk is in relatively good shape, although there are some small areas that are currently closed due to repairs. The boardwalk is fairly long - approximately 4km, and makes for a good walk. The vendors along the boardwalk are a bit disappointing - there are a lot of hot dog and cotton candy vendors, and other vendors selling cheap trinkets. I didn't see any respectable restaurants - for that, you're best advised to get on the subway and go back to the populated part of the city.
Getting There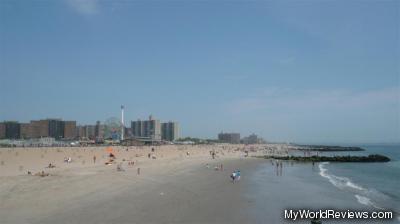 The Beach at Coney Island
The best part about visiting Coney Island is how easy it is to get there! Just take the subway to the last stop on the D, F, N, or Q lines, and you're there! Be advised that the subway takes just over an hour from midtown - even if you take an express line.
review contents
Getting There
related reviews
More reviews in New York, NY
Been here? Want to write your own review of this attraction?