Your Reviews About the World
MyWorldReviews.com
Let the world know what you think
Columbus Gourmet
New York, New York, United States
261 Columbus Ave
New York, New York, United States
10023
212-721-7800
View Map
Overall Experience:
7 / 10
Date Visited:
Saturday, August 23, 2008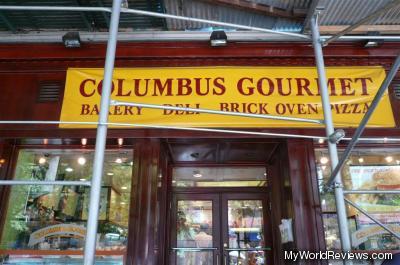 Columbus Gourmet bakery, deli, and brick oven pizza is located in the Upper West side of Manhattan, NYC. They offer prepared deli sandwiches and light hot foods such as pizza, quiches, and quesadillas.
The service is cafe-style - place your order, wait for your hot food, and pay at the counter, then sit at an empty table to eat or take your food to go.
Dress
Very casual - anything is fine.
Cost
Pizza slices costs around $3. Quesadillas were $6.50.
Items Ordered
Margherita Pizza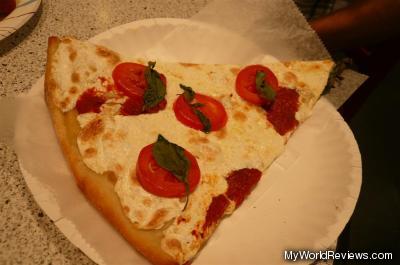 Margarita Pizza
The pizza was delicious! The crust was thin and dry. The cheese was mildly flavored and not greasy. The basil had a strong taste. My only complaint is that I would have liked more tomato and basil topping.
Sizzling Quesadilla - Grilled Chicken & Broccoli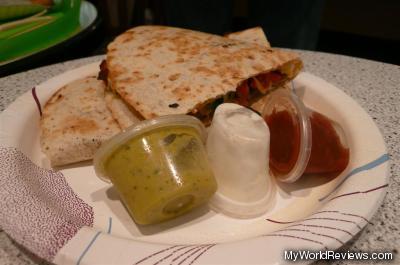 Grilled Chicken & Broccoli Quesadilla
melted cheddar and Jack cheese, caramelized onions, roasted peppers and poblano chilies.
This was a good typical quesadilla. The broccoli was a nice addition. It also came with a pretty good guacamole, sour cream, and salsa on the side. Although it had chilies, I found it had just a little bit of spice too it (it was pretty mild).
Pink Lemonade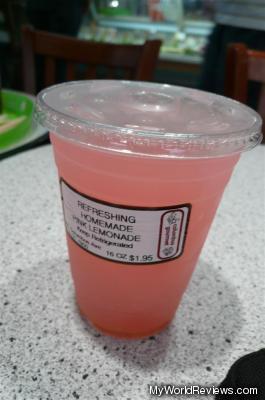 Pink Lemonade
Refreshing Homemade Pink Lemonade
This was a nice and refreshing pink lemonade with just the right amount of sweetness. I thought it was a decent size for the price.
review contents
Dress
Cost
Items Ordered
Margherita Pizza
Sizzling Quesadilla - Grilled Chicken & Broccoli
Pink Lemonade
related reviews
More reviews in New York, NY
Been here? Want to write your own review of this restaurant?