Your Reviews About the World
MyWorldReviews.com
Let the world know what you think
Columbine
New York, New York, United States
229 W Broadway
New York, New York, United States
10013
212-965-0909
columbine229.com
View Map
Overall Experience:
6 / 10
Date Visited:
Thursday, March 31, 2011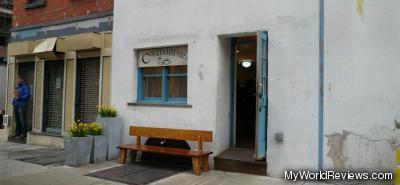 Columbine
Columbine is a small cafe located in tribeca, NYC. They offer sandwiches, soups, salads, coffee, and cookies. It gets very crowded in here around lunchtime, and the atmosphere is not at all relaxed. There's never enough room in the store, so people often line up and spill out onto the street. The food is pretty good though - slightly higher quality than a typical NYC deli.
Dress
Very casual
Service
Join the large line, and wait your turn for the line to snake its way past the fridge. Pick up a sandwich as you pass by the fridge, or wait until you get closer to the front of the line and someone will ask if you want to order any soup.
Items Ordered
Mexican Chicken & Bean; Jerk Chicken Sandwich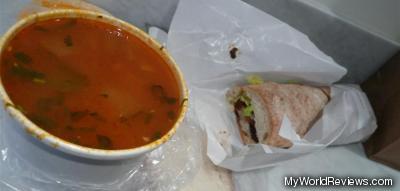 Soup and Sandwich
Soup: Served with Bread from Sullivan Street Bakery; Sandwich: Columbine's Jerk Chicken Sandwich with Grilled Red Onions, Mango-Cilantro Relish and Jamaican Hot Sauce
Cost:
Soup: $6.75; Sandwich: $8
The soup had a lot of chicken in it, and a little bit of bean/corn/peppers. It was served in a tomato base. The soup was very mild tasting, although it did have just a hint of spice.
I wasn't too impressed with the soup. There was just too much plain tasting chicken in it, and the quantity of chicken overwhelmed everything else.
The bread that the soup was served with was a very fluffy white french bread. It had a nice thick crust with a very soft interior.
The jerk chicken sandwich was simple, but tasty. The jerk chicken was nice and spicy, and the red onions were caramelized and very sweet. I loved the combination of sweet and spicy. The bread was a bit tough, but it was still a pretty tasty sandwich.
review contents
Dress
Service
Items Ordered
Mexican Chicken & Bean; Jerk Chicken Sandwich
related reviews
More reviews in New York, NY
Been here? Want to write your own review of this restaurant?