Your Reviews About the World
MyWorldReviews.com
Let the world know what you think
Columbia Restaurant
Sarasota, Florida, United States
411 Saint Armands Cir
Sarasota, Florida, United States
34236
941-388-3987
columbiarestaurant.com
View Map
Overall Experience:
5 / 10
Date Visited:
Saturday, February 2, 2008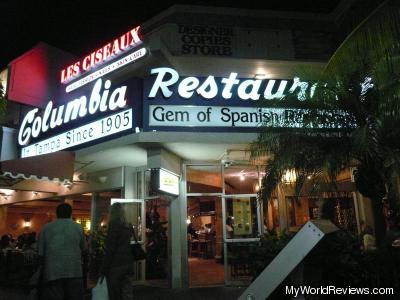 Seating:
Indoor Dining Room
Columbia Restaurant is a spanish restaurant located in St. Armands Circle, in Sarasota, FL. It is quite a large restaurant, and the interior is fairly noisy. It was a very busy place, even at 9pm. It looked modern and upscale, but the bathrooms were fairly dirty.
Cost
Desserts were between $5-$6.
Dress
Different groups were wearing different things. Some people were in shorts or jeans, while other people were wearing dress pants and button shirts. There was a lot of diversity in peoples clothes.
Service
The service was adequate - there was nothing worth noting.
Items Ordered
Key Lime Pie
Key Lime Pie
A Florida Favorite
The key lime pie was quite good. It had an adequate lime flavor. It was served on a plate with guava sauce. The guava sauce was delicious!
Godiva Chocolate Cake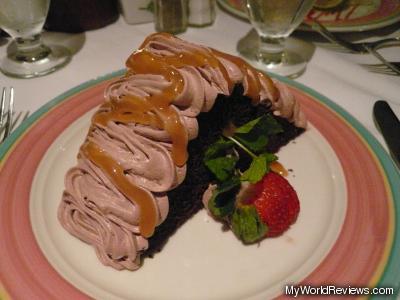 Godiva Chocolate Cake
Dark chocolate cake layered and topped with chocolate mousse, and drizzled with caramel sauce and seasonal berries.
This cake was a big disappointment. The name and description sound excellent, but it didn't deliver. The cake itself was a bit on the dry side. It tasted like it had been sitting out for awhile. The mousse was gross. It tasted like an "edible oil product", and in the end, I just scraped it off the cake. I was really disappointed in this one - the description sounded excellent, but the cake was quite poor.
review contents
Cost
Dress
Service
Items Ordered
Key Lime Pie
Godiva Chocolate Cake
related reviews
More reviews in Sarasota, FL
Been here? Want to write your own review of this restaurant?