Your Reviews About the World
MyWorldReviews.com
Let the world know what you think
Co Pane
New York, New York, United States
230 9th Avenue
New York, New York, United States
10001
212-243-1105
co-pane.com
View Map
Overall Experience:
7 / 10
Date Visited:
Friday, August 17, 2012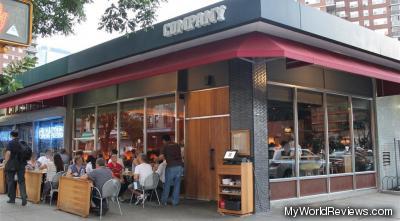 Co Pane
Co Pane (pronounced Company) is a fancy pizza restaurant located in Chelsea, NYC. Their menu is fairly simple - they offer salads, meatballs, and a selection of unique and fancy pizzas. Everything we tried was pretty good. It's a slightly fancy feeling place, but also family friendly. There were lots of kids there when we visited.
Dress
Fairly casual
Cost
Pizzas range from about $10-$18 for a single-serving pizza.
Reservations
I don't know if they take reservations, but if so it could be a good idea. We had a 30 minute wait around 7pm on a Friday.
Items Ordered
Beet & Carrot Salad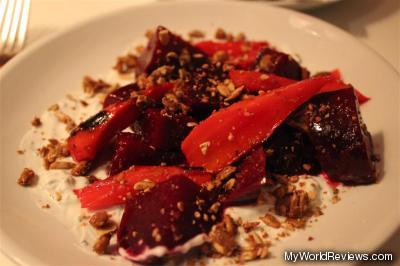 Beet & Carrot Salad
roasted beets & carrots, herbed yogurt, watercress, toasted seeds
The menu we saw had this salad prepared with mustard greens, but we requested that they be omitted. The carrots and beets were soft and went well with the accompanying yogurt sauce.
Shiitake Pie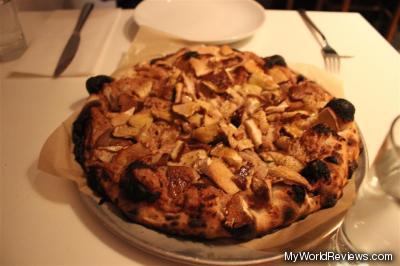 Shiitake Pie
caramelized onion-walnut puree, olive oil, rosemary, sea salt
The "sauce" on this pizza was the caramelized onion-walnut puree. It provided a very interesting and flavorful base for the mushrooms. It made the pizza taste nutty and rich. There were quite a few mushrooms on the pizza, and it was quite good. The crust on this, and all their pizzas, was light-tasting, although it was solid enough that the pizza didn't fall apart if you picked it up.
Corn Pie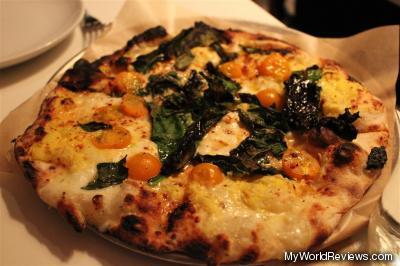 Corn Pie
corn purée, mozzarella, parmesan, sungold tomatoes, kale, basil, chili, garlic
The corn pizza was also quite good, although it wasn't what I expected. The corn flavor was very mild - there were only a few bites where I could tell the "sauce" was made with corn puree. There also weren't many tomatoes on the pizza. The cheeses made it tasty, although it also could have been good with more toppings. This pizza was on their daily special menu.
review contents
Dress
Cost
Reservations
Items Ordered
Beet & Carrot Salad
Shiitake Pie
Corn Pie
related reviews
More reviews in New York, NY
Been here? Want to write your own review of this restaurant?