Your Reviews About the World
MyWorldReviews.com
Let the world know what you think
Cinnamon
New York, New York, United States
106 Lexington Ave
New York, New York, United States
10016
(212) 686-0505
www.cinnamongrill.com
View Map
Overall Experience:
5 / 10
Date Visited:
Wednesday, November 3, 2010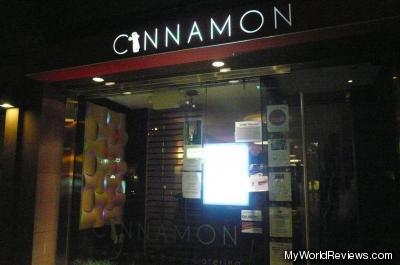 Cinnamon on Lexington
Cinnamon is a small Indian restaurant on Lexington, in a neighborhood with many Indian restaurants. As usual, they served the food in separate dishes, which is convenient for sharing. We asked for our food to be prepared spicy, but it tasted more like mild to us. We were disappointed, especially since they asked for our preference.
On the day we visited, there was live music of some interesting Indian instruments. It was enjoyable to listen to over our dinner.
Cost
Quite reasonable - most items are less than $15. The portions were about average, we shared two dishes and an appetizer between 3 people.
Service
They were understaffed when we visited. I thought this just meant the service would be slow, but it took a really long time for our food to arrive.
Items Ordered
Ceylon Egg Roti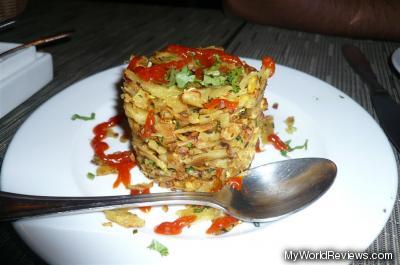 Ceylon Egg Roti
roti tidbits and eggs with spices quick eats from the streets of Sri Lanka.
This was a new experience for me. It tasted mostly like fried potatoes with some interesting flavors mixed in. It wasn't spicy, but flavorful with the sauces on top.
Baigan Hyderabadi and Chicken Curry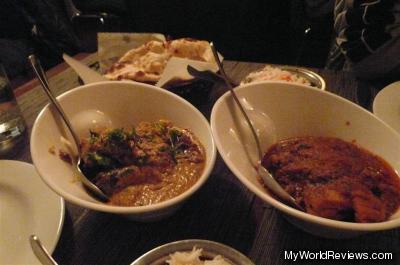 Baigan Hyderabadi and Chicken Curry
Baigan Hyderabadi - eggplants cooked in a traditional peanut flavored onion sauce. Chicken Curry - boneless chicken cooked in tomato, onion sauce and basic spices
The eggplants were whole (somewhat difficult to cut) and in a peanut flavored sauce. The sauce didn't seem to go all that well with the eggplant, but the dish was still OK. The chicken curry was nothing special - certainly not the best I've had. It was lacking some spice.
review contents
Cost
Service
Items Ordered
Ceylon Egg Roti
Baigan Hyderabadi and Chicken Curry
related reviews
More reviews in New York, NY
Been here? Want to write your own review of this restaurant?